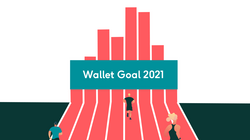 What is your Lendahand Wallet goal for 2021?
Written by Lynn Hamerlinck on 17 January 2021
New year, new goals! Is contributing to a better world one of your New Year's resolutions? Are you also creating personal financial goals?
As an impact investor at Lendahand, you invest in entrepreneurs in emerging markets. By doing so, you support local economies, create jobs, and fight poverty.
You're in charge. At Lendahand, you choose where your money goes, and when and how much you want to invest. Whether a project takes 12, 24, or even 48 months, you'll be paid every six months; including interest.
How do you decide your investment amount?
Want to start investing but still find it a little difficult? Jennie, a Dutch blogger, shared her experience with investing and her top tips to take your first steps (read here, only available in Dutch).
"Are you satisfied with the amount in your savings account? Are you in line with your advice buffer? Is your expected AOW benefit reassuring you? Do you have any money left over that you can spare? Are you okay with doing this in the long term? If you have answered yes to all the questions, investing is an exciting option for you." - Jennie
Investing in Lendahand is possible from €50. Choose the project you'd like to invest in, followed by the desired amount and payment method. There are no additional or hidden costs.
Curious about how much you have to gain from crowdfunding with Lendahand? You can use our helpful investment planner tool to get an idea of the power of using compound interest to grow your money over time. In another article, Jennie shares her experience and profit after investing through Lendahand for a year. Click here to read the article.(only available in Dutch).
How much is in your wallet?
Imagine investing in a 12-month project in January 2021. The first day of the month after the project is fully funded, you start earning interest. Six months later, being on the 1st of August in this example, the first repayment starts including the interest over the repayment which runs from February to July 2021. You'll receive your repayment within 10 business days straight in your Lendahand wallet.
Two things you can do with the repayment:
1) Collect: this is when the amount in your wallet gets transferred back to your bank account one day after the amount becomes available.
2) Invest: Create more impact; you can choose to invest in another project and start gaining interest again. You can continuously preserve funds in your personal Lendahand wallet.
Did you know that you can transfer money to your Lendahand wallet while awaiting a project? This way, you can invest in a project right away and you won't miss any opportunities.

If you have any questions, don't hesitate to contact us via info@lendahand.com. We're happy to help.