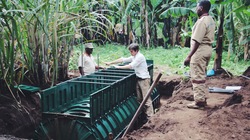 SimGas: Two brothers' quest for clean energy
Two brothers with a shared passion for socially responsible entrepreneurship and sustainable development set up a business that would shake things up in the biogas industry. Sanne and Mirik Castro founded SimGas in 2009, with the idea to design and bring to market a highly scalable biogas digester that would provide clean energy and fertilizer for millions of rural households. The SimGas biogas system was launched: a ground-breaking product that is mass produced, fast to install, and customized to best fit customer needs; three unique selling points that enable supply to meet the increasing demand for domestic biogas in Africa and Asia.
Why does SimGas design, produce and install biogas systems? Because more than 3 billion people worldwide are being exposed to toxic fumes, fuels and dangerous open fires while cooking their meals. For 2 billion, there are no alternatives: electricity for cooking or LPG/gas distribution are not available or cost effective. In East-Africa, 95% of households use wood or charcoal. Inhaling acrid smoke and fine particulates causes risks of skin, eye and lung diseases – exposure similar to smoking 20 packs of cigarettes per day. The direct consequences cause four million people worldwide to die each year. In Kenya, not malaria, not AIDS, but indoor air pollution is the no.1 cause of death. Biogas is a clean cooking fuel and thereby eliminates indoor air pollution, putting an end to Kenya's top cause of death and disease.
SimGas wants to enable our customers to become more productive, independent, cost-efficient, and healthier farmers. And because they want to make biogas accessible not just for the lucky few, but for the worthy many. That's precisely what their biogas systems do. By doing so, SimGas creates healthy and safe environments for rural households while contributing to the reduction of indoor air pollution, deforestation, and carbon emissions.
The SimGas biogas system is a fully integrated farm solution: manure from livestock goes in, biogas and organic slurry come out. Biogas is primarily used to replace wood, charcoal and kerosene as cooking fuel. Using biogas thereby lowers household energy expenditures and makes households independent of unreliable or non-existent power grids. Alleviating dependence on wood fuel or charcoal not only takes away the health hazards of indoor air pollution, it also saves time: about two to four hours a day. Slurry that has been fully digested exits the system through a pipe, onto the farmer's land where it is used as an organic fertilizer to grow crops and cow fodder. The improved crop yield is consumed by the household or sold at the local market, increasing income. The improved cow fodder is fed to the cows, which in turn will produce more milk and manure. The cycle repeats itself, every day.
One of their customers in Tanzania, Mama Alinda Massawe, who owns a 6 cubic meter SimGas biogas system, best explains the benefits: "I've told just about all my neighbours how great and helpful the biogas system is. It has helped me to save costs and there is no more firewood smoke. The slurry is very helpful for my banana plants. They look better than ever, I am even planning on selling them. The SimGas biogas system is what we all need!"
Since 2009, SimGas is growing fast: SimGas East Africa (est. 2011), two daughter companies in Tanzania (est. 2011) and Kenya (est. 2013), and a production facility in Tanzania (est. 2014) that was opened by Dutch Minister for Foreign Trade & Development Cooperation Ms. Lilianne Ploumen! While its daughter companies handle local production and implementation in East Africa, SimGas' HQ in The Netherlands specializes in business development, engineering, design and research.
By working closely with customers and partners, SimGas identifies needs beyond clean cooking, such as safe sanitation to prevent diseases, innovative financing models (e.g. lease to own or pay as you go) to make their products more affordable, collecting live performance data to measure impact, and cooling milk to increase their customers' milk sales.
Here is a call to those who feel as excited as we do about empowering smallholder farmers in East-Africa with ground-breaking biogas systems and services: You can help SimGas provide loans to 170 farmers in Kenya with which they can each own a biogas system, such that they can benefit directly from clean energy and organic fertilizer: https://www.lendahand.com/nl-nl/crowdfunding-projects/4332-simgas-kenya-ltd/
Want to know more? Find out what SimGas is working on at www.simgas.org and let them know what they could do in cooperation with you!