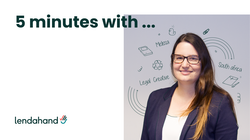 Five Minutes With Melissa
Melissa was born and raised in Pretoria, South Africa. After obtaining her legal degree at the University of Pretoria, she spent three years in private legal practice, whereafter she joined the corporate world as an in-house legal advisor. For most of her career, she's been active in the renewable energy space. She has two amazing kids and dogs, and a bucket list item for her would be to see the Hellisheidi geothermal power plant in Iceland. Her favorite travel destinations are the Kruger National Park and the Western Cape.
Name: Melissa Nightingale
Role: Legal Creative
What does your typical workday look like?
I am mainly responsible for restructuring, contract drafting, and other legal aspects such as our recent equity raise, corporate governance, etc.
What is the last time you lent somebody a hand?
Recently during the lockdown, when I donated my clothes to people in need.
How do you impact the lives of others daily?
I actively recycle and have significantly reduced my carbon footprint over the last year. Where possible, I always try to support small businesses as opposed to the more significant corporate operations. Sustainable resources and products have, over the previous year, also become increasingly important to me.
What are the hands-on things one can do to empower others?
Actively invest through our platform to assist entrepreneurs in emerging markets. If you cannot invest financially, you could share experiences, knowledge, and lessons learned in your specific field of expertise with youth or new business owners. People can also volunteer or join an outreach program in their community.
What's a crowdfunding project that still inspires you?
Yak Fair Trade, I think food sustainability is a topic that deserves more attention, and I find this project really exciting.