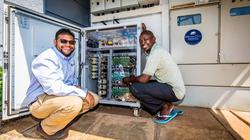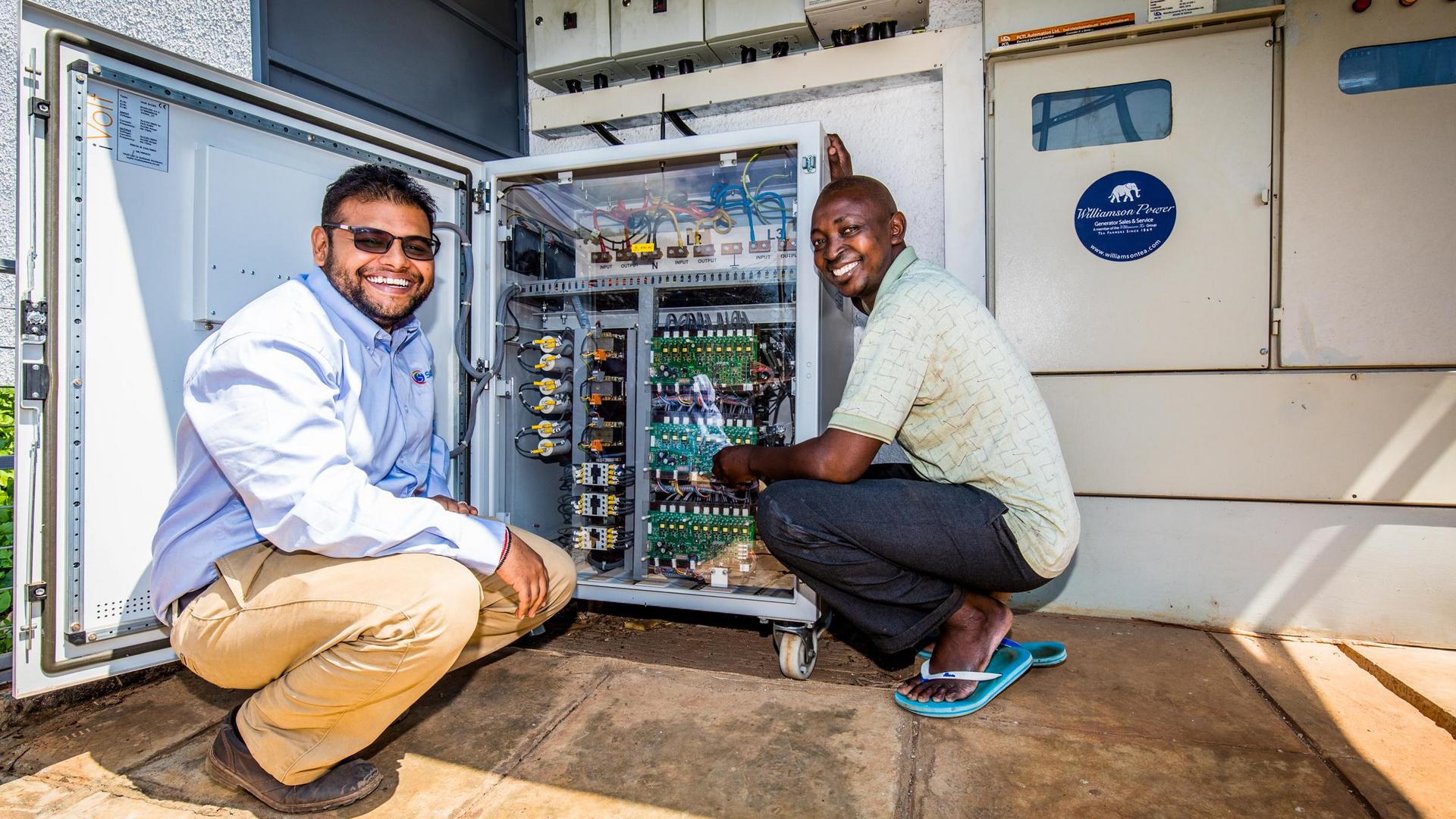 Reliable electrical power equals a stronger economy and better quality of life: Here's what Sollatek is doing about it
Written by Charity Nyawira on 16 September 2021
Lendahand got a chance to visit one of our portfolio companies, Sollatek Electronics Kenya, to find out how their products and services impact the community. We had an exciting time speaking to Natalie Balck, the Head of Projects and Partnerships and Devlin D'Souza, the Chief Sales Officer (CSO) at Sollatek in their Nairobi Sales Office.
Sollatek is a solar and power management company that has been operating in Kenya for 35 years. The company is best known for its Power Protection Devices. These include their Automatic Voltage Switchers (AVS), Uninterruptible Power Supply (UPS), voltage regulators, voltage stabilisers, and voltage guards; preventing sudden power fluctuations from leaving businesses without crucial energy. In the 2000s, Sollatek also entered the solar power space.
Many people still need power management solutions
Blackouts and brownouts - these words are all too common for Kenyans and, by extension, citizens in other developing countries.
"Right now, every time the power gets cut, we get an influx of calls. Business goes down, part of the factory stops working, or everyone in the house has to quit what they're doing. So they know that there's a better option," Natalie says when we ask about the demand and awareness of solar power and power management solutions in Kenya.
In advanced countries, mains power is relatively stable (and you get to enjoy compensation if power hiccups ruin your devices). In Kenya, that remains a dream.
The underserved areas
Then there are those with no power to enjoy. Some areas in Turkana County in Northern Kenya; Isiolo county in Upper Eastern Kenya; and Taita Taveta, Kilifi, and Kwale counties at the Coast are not connected to the mains.
Electricity in these places remained a luxury—up until solar projects like Sollatek's Project Jua II (funded by the OVO Foundation) came to the rescue about 2 years ago.
300 off-grid solar panels in low-income areas
Project Jua II involved the installation of 300 off-grid solar photovoltaic (PV) systems in schools and health clinics. These solar systems power educational equipment such as tablets and computers in schools, bridging the digital divide for school-going children. Now, clinics can enjoy better lighting even during the night, reducing maternal mortality.
Helping customers protect their costly devices
When power fluctuates, devices are at risk of damage. Natalie names lightning and extra high voltages especially in highly industrialised areas as some of the causes of unstable power in Kenya.
"Nairobi sits at high voltage. It's normally at 250V or above but should be at 240V. There's so much industry here. In other places around the country, you'll get fluctuations around the transformers or substations which can cause serious damage."
It's these voltage changes and power interruptions that wreck customers' devices and lower their lifespan. Sollatek's range of affordable guards (some going for as little as $15) shut and hold off during voltage fluctuations until power returns to normal, preventing devices from frying. This allows customers to save thousands of shillings in the repair and replacement of freezers, TVs, computers, and other costly devices.
Keeping businesses thriving
Property developers, especially those renting out high-end homes, are part of Sollatek's customer base. By making power management devices part of home design, developers ensure there's a stable power supply, attracting renters.
Natalie explains how banks, dairy processing companies, and manufacturing businesses (like those dealing with cosmetics, pharmaceuticals, and mattresses) also have Sollatek's power stabilisers and power backup devices to thank for their continuity and profitability.
"It's because they want their machines to be working," says Natalie. "We've worked with banks and all their ATMs have stabilisers on them. You don't want an ATM going down. Dairy companies also need stabilisers and power backups to do UHT milk. Their machines have to run for 6 hours straight," she adds.
The range of Sollatek stabilizers correct voltage changes so that machines in these factories run at the required voltage. Power backup devices store power to keep machines running after a blackout, preventing business losses.
Creating employment and fostering long-lasting businesses
While Sollatek has directly employed 50 people, the company has been more than just an employer. Sollatek's relationship with its distributors is to die for.
With over 85 distributors countrywide, it's not just the quality and consistency of Sollatek's products that has kept distributors coming back, for decades.
"We provide distributors with attractive payment terms, annual training, and run them through our different products and what they want to stock. A lot of times when we are doing a grant or doing some other project in that area, we will work through our distributors in that area as well, to support them," says Natalie.
Devlin also mentioned that Sollatek plans to deepen its distribution network in Kenya and other East African countries.
Larger scale solar projects are the future
Bigger projects equal more impact and faster growth, and that's what Sollatek is all about right now.
Sollatek's main business has been the sale of voltage protection devices and carrying out smaller off-grid projects (such as in homes, clinics, and smaller businesses.) Its goal is to expand into bigger C&I (Commercial and Industrial) projects.
"We have requests coming in already from these big organisations but we've never had the equipment to handle them. Our first big solar project (Project Jua II), value-wise, was over a million. So that's what we want, to have a few of those every year and that will help with our growth and expand what we can do," Natalie explains.
Navigating the challenges
While Sollatek has established itself as a trusted company in East Africa, it has not been without its challenges.
Delays in shipping caused by the COVID-19 pandemic top the list. However, their strong distributor relationships and a leading presence in the power control market save the day.
"Our distributors are usually more loyal because of the other benefits we provide them: The attractive payment terms, deliveries, after-sales service, warranties…They want our products because we provide them with a whole service apart from high-quality products," says Natalie.
The influx of counterfeit products and cheaper competition also bites them, seeing that some customers are very price-conscious.
With funding and relevant partnerships, Sollatek is all about business!
Despite the shortcomings, Sollatek isn't experiencing a dip in demand. The company is all about business. Natalie explains how Lendahand funding has been a crucial part of Sollatek's projects.
"We have been working with Lendahand for 4 years," Natalie says. "We didn't know what crowdfunding was but now we've become experts. We're now the ones explaining it to others! We practically couldn't manage our lives without Lendahand!"