Make your impact with crowdfunding
Invest in companies in emerging markets and earn up to 7% annual interest while creating jobs and improving local economies.
736 million people globally live on less than €1.60 a day
Inequality between mature economies and emerging markets has left millions in poverty and without opportunity. This has consequences such as lack of education, gender inequality, and unsafe living conditions.
Lendahand empowers you to make your impact across the world by investing in companies in emerging markets working hard to improve their local economies and communities.
Choose from proven companies
Our experienced team selects proven companies and financial institutions that need funding to grow their businesses. These companies then list "projects" on our site for you to crowdfund.
Invest in the projects that fit your needs
Invest in the projects most important to you based on factors such as job creation, environmental impact, or gender equality. Start from €50 and earn up to 7% annual interest.
Fight poverty in emerging markets
Help close the €4.6 trillion funding gap facing SMEs in emerging markets, create jobs, improve local communities, and contribute to a sustainable financial system that works for everyone.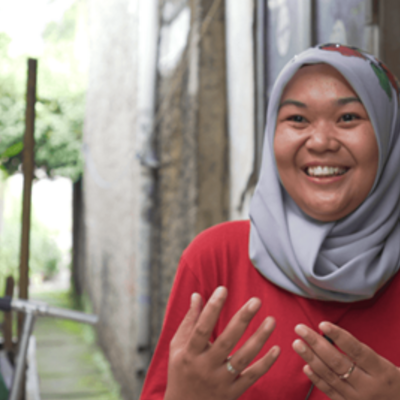 Indonesia
Funding Societies 14
Local partner Funding Societies will use another EUR 750,000 for working capital needs of about 100 SMEs in Jakarta, Bandung and Surabaya in Indonesia. The majority of these SME is engaged in eCommerce, agriculture & allied activities and wholesale trade.
| | |
| --- | --- |
| Amount | €750,000 |
| Interest | 4.00% |
| Maturity | 12 months |
| Repayments | 6 months |
| Currency | EUR |
Still €184,950 needed, 46 days to go
Winner Best Crowdfunding Platform 2018 & 2019 by IEX.nl
"Lendahand won on the basis of strong performance in terms of growth, costs, transparency, and the continued development of services in 2019. With this, Lendahand rightly retains the title of 'Crowdfunding Platform of the Year'."
An account that keeps growing
Receive repayments in your account every six months and never pay a monthly fee, ever.
Curious about how much you have to gain from crowdfunding with Lendahand? Below you can use our helpful investment planner tool to get an idea of the power of using compound interest to grow your money over time. Read about the risks and Default rates associated with investing via crowdfunding before committing to a project.
First investment

How much do you want to start with?
Monthly topup

How much do you want to contribute each month?
Average interest

What type of interest are you looking for in Lendahand projects?
Portfolio development by year
Download your own Excel file to customize and save your investment plan.

5 benefits of solar energy for a Kenyan flower farm
By Lynn Hamerlinck on 6 January 2022
Our team recently had the opportunity to visit one of portfolio company Redavia's clients in Kenya. We've listed 5 ways the solar farm is impacting an agri-business and local community.
Do more with your money
Create your free account now and make your impact on the world.