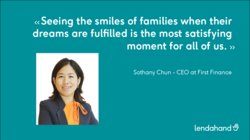 An interview with First Finance CEO Sothany Chun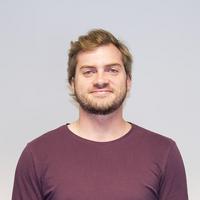 Written by Lucas Weaver on 28 January 2021
One of the things we hear consistently from our investors is how they'd like to get to know the people behind the projects. So to try and accomplish that, we're starting a new series of email interviews with some of our portfolio companies to hopefully bring you some insight into their stories.
This month, we got the chance to hear from First Finance CEO Sothany Chun who told us about what they're doing to help people in Cambodia.
Question: What is the story behind your company and what inspired its start?
Answer: Back in 2006, buying a house was almost impossible for low and middle income individuals in our markets. Commercial banks back then only focused on high-end clients. Considering the challenges faced by the younger generations from low and middle income families, our founders got together to test the concept of mortgages for low and middle income individuals. The concept was tested for three years before it was concluded to be marketable, then First Finance was established. First Finance since then has kept focusing on providing financial solutions to low and middle income families and individuals who are looking to buy their first home.
Q: What are the most significant challenges your company helps overcome?
A: We provide access to financial services that allow people to own their first home. In addition,we also assist our clients in verifying the legality of the home ownership documents.
Q: Why did you choose Lendahand to finance your business?
A: Through Lendahand, we can access many investors and let them be part of the journey to help more low and middle income families own their first home they can be proud of.
Q: How does your company stand out from your competition?
A: In addition to providing long-term loans which are critical in financing home ownership, First Finance also pays attention to the legal aspects in relation to home ownership.
Q: How has your company developed its social impact over the years?
A: Our impact has been focused on the number and percentage of low income clients whom we are able to help to own their first home. Home ownership means everything to these families, and we're proud to be a part of the solution.
Q: Can you tell us about a notable success story your company has had?
A: One of our clients who lives with her widow mother was finally able to buy her own home after spending years living in a small clothing store where they were also making their living.
Q: Are there any exciting company developments in your pipeline?
A: Yes, we are pushing for a partnership with property developers where we can connect their clients with formal financial services. Most property developers offer installment options to their clients, especially those who do not have enough money for a down payment. Though this is good for the client at the beginning, the risk is higher the longer they stay with the property developer because the ownership of the client's property is still with the developer. If they can be moved to First Finance, ownership can then be transferred to the client, which then lowers their risk over the long-term.
Q: How is COVID-19 affecting your company (if at all), and how are you overcoming it?
A: Covid-19 has of course impacted everyone. Some of our clients have either lost income or have had their income reduced. First Finance has provided moratorium options to those who have been impacted in order to help.
Q: What is the most fulfilling part of your job?
A: Seeing the smiles of families when their dreams are fulfilled is the most satisfying moment for all of us.