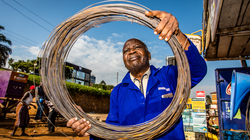 Investing
What is a Crowdfunding Project?
Written by Lucas Weaver on 24 October 2019
In this day and age of "Fintech" startups, the terminology can be a bit much to keep up with. In this post, I'll explain what we mean when we use the term "crowdfunding project" at Lendahand.
At Lendahand, we give you the opportunity to invest in crowdfunding projects that help close the funding gap that SMEs and entrepreneurs in developing countries face.
Our Terminology
We call them "projects" because they have fixed time periods and specific purposes. For instance, an auto repair shop that already has a relationship with us may want to raise funds to add another two repair bays to their facility. They figure up how much money they need for that expansion, and then they come to us, or one of our local partners, with an official funding request. Then, we turn that request into an investable "project" that our crowd of investors can crowdfund, and then put it on our website.
Each project always has certain characteristics that are important for our crowdfunders to know before they decide to invest, such as the risks, what the money will be used for, how many months until the business will pay the money back, what interest rate they will be paid for their investment, and what social impact the project will have.
Project Details
These characteristics are what we use to create the project detail profiles that you see on our "Crowdfunding Projects" page, along with important background info about the businesses, such as which country they are located in and how healthy their businesses are.
To be clear, these projects are investments. They are loans that are made to entrepreneurs, SMEs, or local funding partners, using the money from our crowd of investors. The reason why it's crowdfunding is that you are not making a direct loan to an entrepreneur all by yourself (although you could in theory fund an entire project yourself, remember, it's good practice to spread your risk over several investment opportunities). Your money is packaged together with the money of all of our other investors who also want to invest in that project.
You and This Crowdfunding Army
You and all of our other investors make up our "crowd," and you all as "crowdfunders" help provide these businesses with the growth capital they need. This in turn, of course, is how we work to accomplish our mission of eliminating poverty.
So whether you want to call it a project, an investment, or a loan, just know that whatever you call it, the businesses ultimately receiving the money call it much needed help, and you are certainly making a real impact on real people.