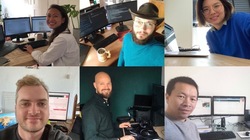 Updates
Coronavirus (COVID-19) Update
Written by Koen The on 16 March 2020
Hello everyone, I just wanted to send you a brief note on the status of us here at Lendahand as it relates to the Coronavirus.
As I am sure you are aware, the Coronavirus (COVID-19) pandemic has escalated rapidly and is a full-blown crisis. Our thoughts and prayers are with those affected across the world, especially those who are now enduring truly hard times in Italy and Spain.
At Lendahand, we are practicing social distancing and our entire team is working from home until 6 April at the earliest. We are fortunate in the regard that we are an online platform, and this is relatively easier for us to do than many other workers in Europe. Our entire team is working as normal in order to make sure we remain able to service all of our investors and all of the companies who rely on the capital we provide to run their businesses. We don't foresee any significant challenges for our internal processes and operations for the time being.
We are also fortunate in that the locations in which our projects are located have largely up to now been unaffected by the spread of the Coronavirus. We have received no negative news so far from any of our partners across the world, but we are monitoring the situation as closely as we can, and we will inform you as soon as anything noteworthy with any of our projects arises.
Obviously there are other economic factors at play throughout the world economy of which the extent of the ramifications may not be known for some time. We have no intention of attempting to predict the future as it relates to our partners, projects, or the economies in which they operate. All we can do is be diligent and active in our jobs of monitoring and assisting these companies as situations regarding the Coronavirus play out.
We also remain dedicated to servicing our investors as normal and will continue to be available via email, social media, and the live chat function on our website for anyone who needs us.
We want to thank you for your continued support of Lendahand and our mission to fight poverty across the world. Please take care in this difficult time while we wish nothing but health and positivity to all of you and your families.
Sincerely,
Koen The
CEO Lendahand