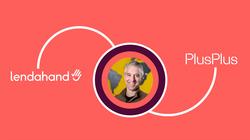 Updates
Transfer news: Lendahand founder Peter Heijen goes to PlusPlus
After almost 10 years I have decided to step down from the Lendahand Board. Thanks to my wife Esther, I had the opportunity to follow my heart and become a social entrepreneur. Thanks, Pipi Longstocking :), for that advice. Without much relevant knowledge or experience, I began on my journey to make an impact in the world, especially those who really need it.
This goodbye is not with pain in my heart. It doesn't even really feel like a goodbye. For the time being, I will remain involved with Lendahand Impact+ and of course as a shareholder. I will be happy to advise Koen and the team - solicited and unsolicited. But something new has come my way. In the past two years, we have been working on a completely new crowdfunding platform: PlusPlus.nl, and I will be leading this new company.
Incredibly proud
The first years with Lendahand were cool, but we also had many setbacks. Several times I almost gave up. But when my savings and motivation were running low, Peter Stolze and Koen The stepped in. They drastically changed the Lendahand game. Thanks guys! It was an honour to work together all these years.
Now there is a wonderful social enterprise with a team of 20 special people who achieve great impact on a daily basis. I am proud of that, but I realize that 99% of those results were achieved thanks to the very special team. Under the leadership of Koen, Lendahand has made significant steps in the past 3 years. That is why I look to the future of Lendahand with confidence.
Then why am I going?
Lendahand really makes an impact, but we do not reach the very poorest people in rural areas as well we would like. About 3 years ago, Solidaridad and ICCO came to us with the idea of ​​finding and monitoring transactions for Lendahand with their local people. I wanted to go much further in this and we decided to create a new platform together. PlusPlus was born and stole my heart.
No more hunger
PlusPlus focuses on small and medium-sized agricultural companies in developing countries. These companies can reach the poorest people and contribute to local food security. At the same time, these companies have almost no access to credit. PlusPlus is taking up this challenge and I have had the honour and pleasure to set it up and lead it. I would like to seize that opportunity. It gives me the chance to really be entrepreneurial again, and to give my idealistic ambition much more substance.
About PlusPlus
If you invest via PlusPlus, you choose to give your money meaning. Your investment has an impact on people on the other side of the world. You lend money to entrepreneurs in the agricultural and food sector. Through them, you invest in new jobs and food production in Africa, Asia and Latin America. This way your money, without receiving interest, will still be worth more. Take a look at PlusPlus.nl!