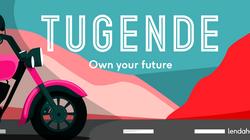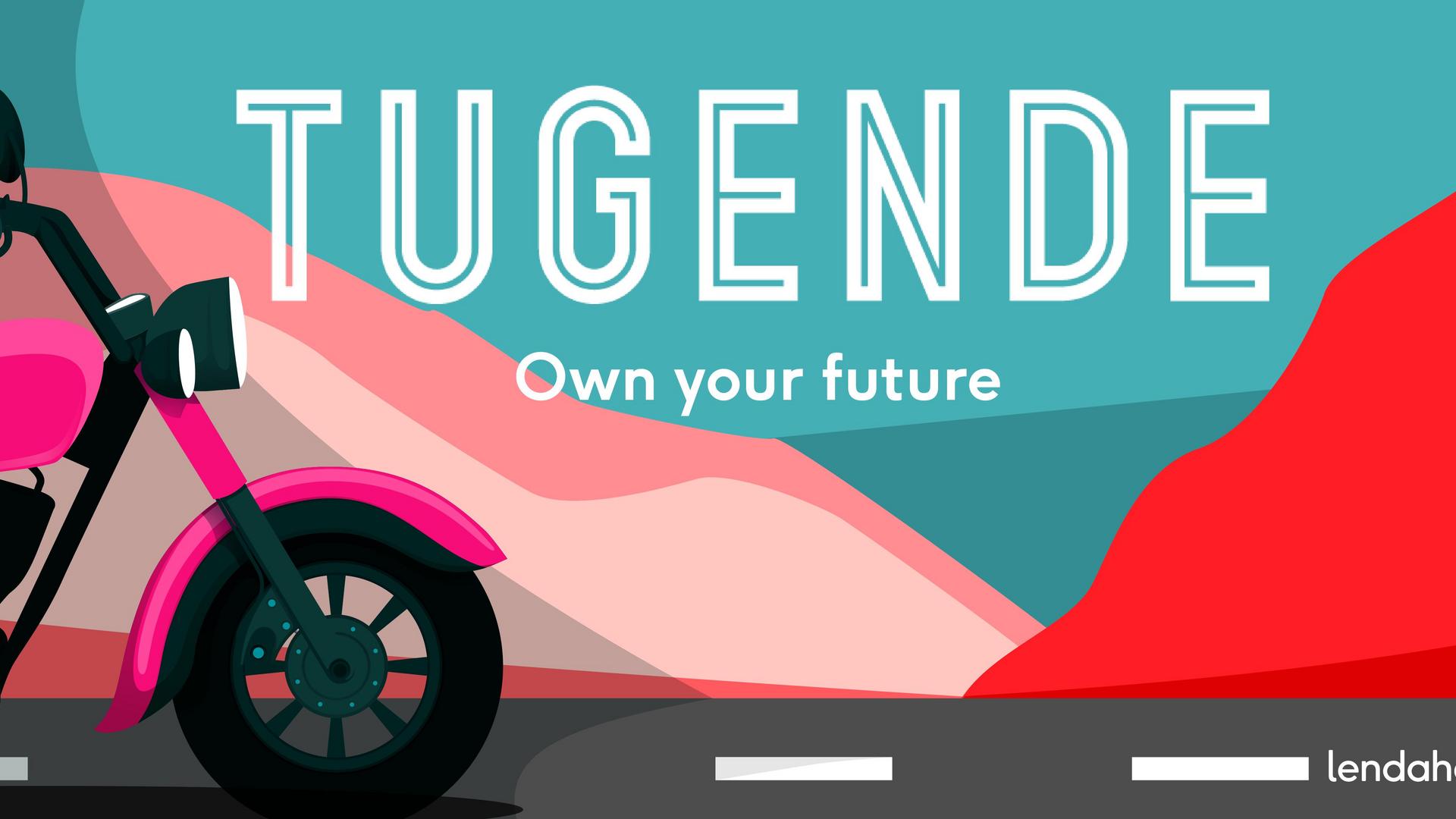 Lease-to-own with Tugende in Uganda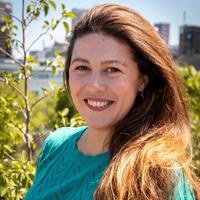 Written by Lynn Hamerlinck on 28 October 2021
"The Tugende Branch in Rubaga," I say while I hop on the back of the motorcycle taxi. The boda-boda is taking me to meet other boda drivers who work with Tugende. They're a for-profit social enterprise in Uganda that helps reliable motorcycle taxi drivers buy their own motorcycles.
Drive to own
Boda-bodas are the most popular means of transportation in Kampala, as they can navigate traffic jams and get you to your destination on time. It is also the most significant job market. But most of the more than 500.000 motorcycle taxi drivers* don't own the motorcycles they ride. Instead, they use a large portion of their daily earnings to rent them from a landlord, which keeps them from saving enough to buy their own. On top of that, landlords can claim back their motorbike at any given time, leaving the drivers without their income-generating tool.
Banks typically turn down motorcycle taxi drivers' loan applications as they usually don't meet the formal requirements. They can't present records of their income and expenses, for example, since they operate in the informal economy. Nor do they have the collateral to qualify for a loan.
Tugende's model offers a simple solution: lease-to-own motorcycles that give responsible boda-boda drivers the means to grow towards financial independence and ultimately improve their overall economic circumstances.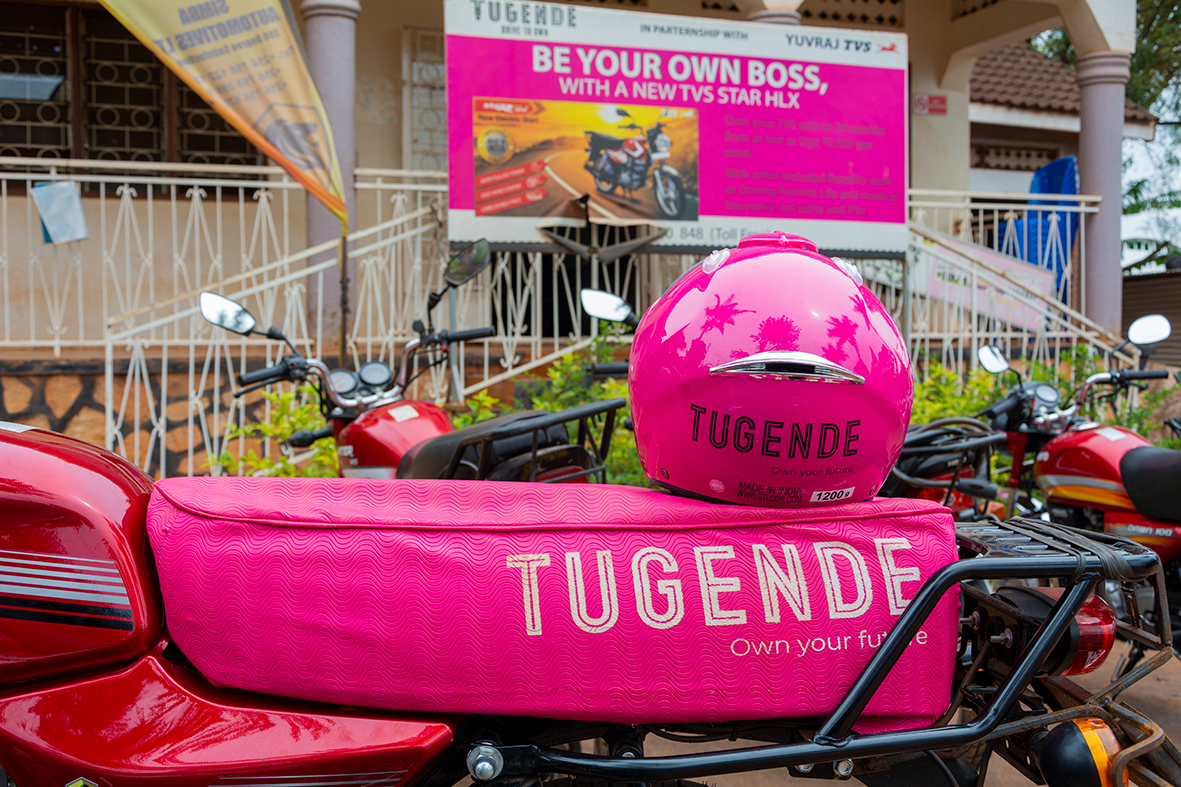 The Tugende branch entrance in Rubaga, Kampala
When I arrive at the branch, three potential customers are waiting in line for their assessment for a lease-to-own package. First, they must prove that they already are boda-boda drivers and have a family member sign as a reference. Second, they have to be able to deposit 10% of the total amount of their lease. Paying only 15% more than typical rental rates, Tugende drivers can become the legitimate owners of their motorbike in 24 months or less, allowing them to double daily income from $5 to $10/day and own a valuable asset. The company also has returning customers who resell or rent out their motorcycle when obtaining ownership, and start over.
When new Tugende drivers leave the office, they are 100% compliant with Ugandan law. The company helps its clients get a driver's license and provides them with life and medical insurance. New riders also undergo a first aid course, customer service training, and basic financial management training. All is included in the payment package, as well as a high-quality Tugende helmet.
* There are more than a million boda-bodas in operation in Uganda, but more than half of them are not registered.
Curfew is cutting earnings
Spotting the bright pink Tugende helmets in the chaotic Kampala traffic is like playing 'Where is Waldo' in real life. "I feel excited and proud every time I see a Tugende motorcycle on the road, and the number is growing!", says Charles Mwanguhya, Manager Corporate Affairs and Communication at Tugende. We're on the road to meet some of their clients in the field.
First, we meet boda-boda drivers Emmanuel and John Peter at a busy crossing waiting for customers. Their biggest struggle at the moment is the long-lasting curfew in Uganda. "Our best earnings are at night when we drive clients to and from work, bars, and clubs," Emmanuel says, "but most people work from home now, and bars have been closed since the pandemic hit."
On top of that, there is a boda-boda curfew starting at 6 PM and a street curfew from 7 PM on. "It makes the workday so short for us, cutting off a lot of potential earnings," John Peter adds. "If we get caught operating after curfew, we risk having our most important asset confiscated: our motorcycle."
To help the government open up the country again, Tugende organizes vaccination campaigns with the Ministry of Health. On a Saturday, they invited 7.000 clients through text message. 3.000 people showed up for a jab.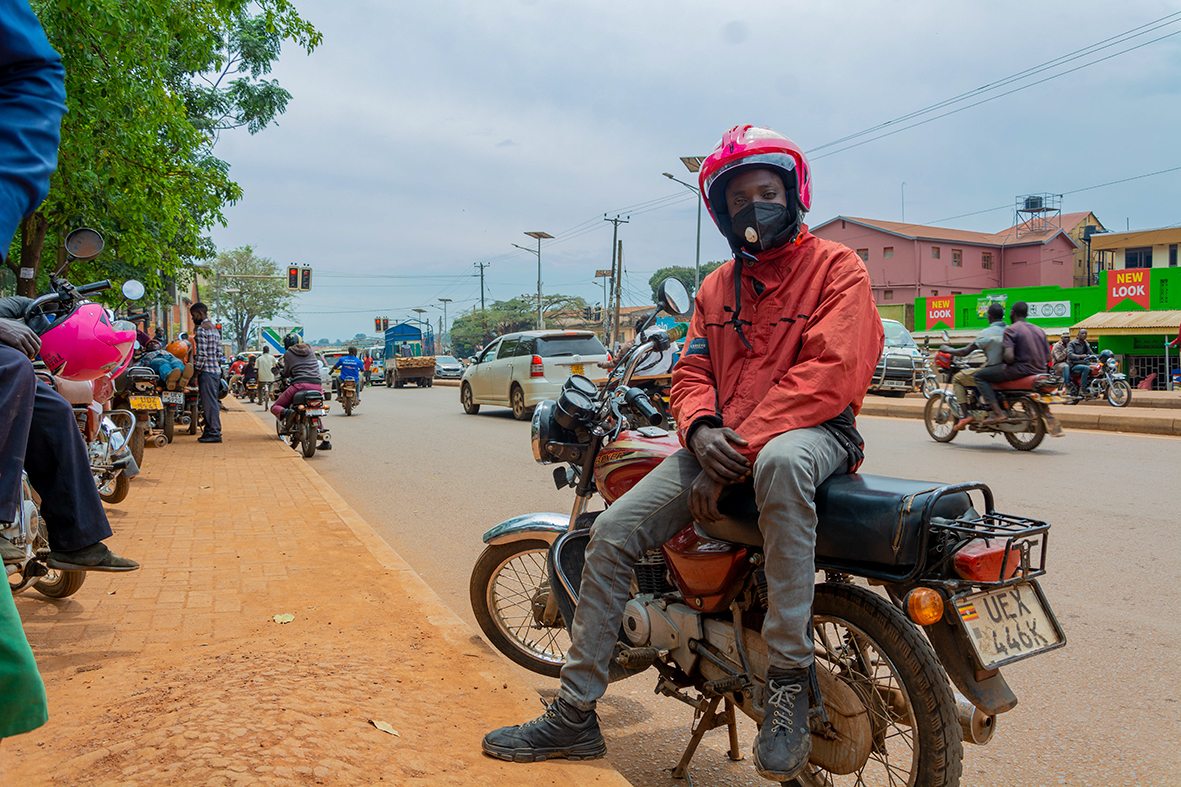 Boda-boda driver John Peter on his lease-to-own motorcycle in Kampala
Creating opportunity through ownership
Riding a motorcycle is not a job for everyone. That's why Tugende is adding more income-generating products to their range that support entrepreneurs in other sectors as well. Think boat engines for fishermen, cars for private taxi drivers, fridges for small shop owners etc.
When Florence's husband started to lease-to-own his boda boda with Tugende, she saw an opportunity to generate more income. Florence Nakalema lives in a neighborhood without access to tap water. She was already trading water from a small water tank, as she had a running pipe from the National Water Company connected to her house. Tugende helped her install and pay off two extra water tanks, one of 1.000 liters and one of 10.000 liters. Now, she serves her whole neighborhood with clean potable water to cook, wash, and shower.
With her income, Florence can pay the school fees for her children, learn to make handicraft materials to generate an extra income, and save for the future. Her next goal is to buy a piece of land in another neighborhood without access to water, build a house, and start serving the community with clean water there too.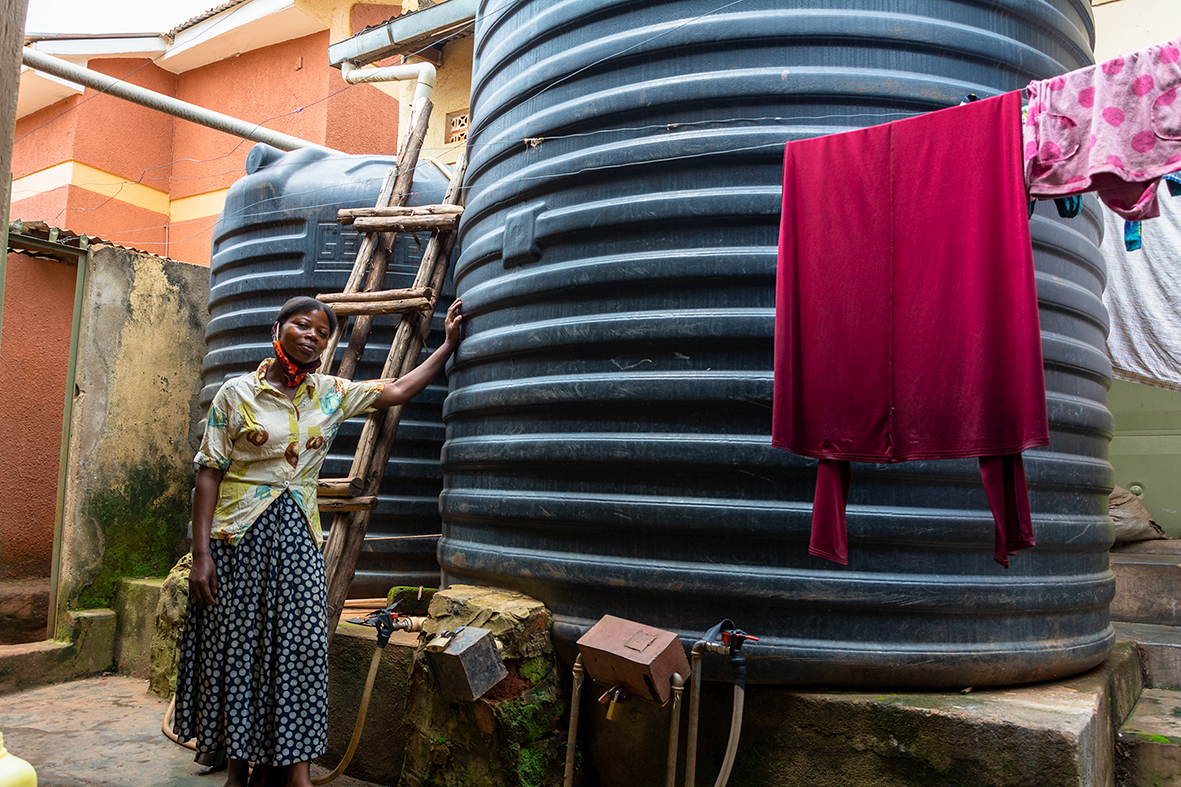 Tugende customer Florence with her lease-to-own water tanks in Kampala
The Tugende staff of more than 460 employees is now operating in both Uganda and Kenya. They have now served over 30,000 clients and keep growing and innovating to help more people take control of their future.
Keep an eye on our projects page to see Tugende's investment opportunities.
Tugende! [Meaning Let's go! in Luganda]