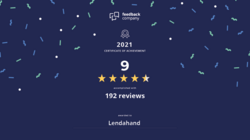 Investors give Lendahand a score of 9
Written by Lynn Hamerlinck on 25 March 2022
Lendahand is in the running for the Golden Bull Award 2021. For the fourth time in a row, Lendahand received the Best Choice label and a nomination for Crowdfunding platform of the Year from IEX.nl, the leading Dutch news platform for investors.
With their Best Choice label, IEX tries to make the extensive Dutch investment market clearer and more accessible. From five nominees in each category, one winner takes home the Golden Bull Award. How were the nominees elected? IEX surveyed more than 4,000 Dutch investors about their experiences. Among other things, Lendahand scored highest on communication in the investor survey.
Lendahand has had the honor to win the award twice, in 2018 and 2019. IEX will announce the Crowdfunding Platform of the Year 2021 on Tuesday 29th of March; we're keeping our fingers crossed!
9 score, that's quite something!
1,400 investors left Lendahand a review on The Feedback Company, setting a 9 score. We are very proud of this result and work hard to maintain this high rate, as it means our investors are happy with our services. We're thankful to count on so many of you to leave us valuable feedback.
"Great, I've been using the platform for over a year, and it's been a very positive experience so far."
"I've been investing in plenty of projects for 4 years. Cool that it helps others while also making the world a better place. Great that you earn interest."
Do you want to share your experience with impact investing through Lendahand? Leave your feedback here to inspire others.
Started from the bottom now we're here
Back in the day when Lendahand started, customer contact was pretty straightforward as our crowd of investors was very small. Co-founder & COO Peter Stolze picked up the responsibility of developing the customer service system and has fulfilled this vital task ever since. Most important principle: it's about impact and about money. If people have questions about that, they don't want to wait days or weeks for an answer. So the rule is: on working days, you should receive a reply within 24 hours.
Today over 10,000 investors make their impact with Lendahand, which is a whole different crowd than before. Together they mobilized 120 million euros, a huge milestone for Lendahand. Nevertheless, personal customer contact remains a key pillar within the crowdfunding platform's communications.
Lessons learnt
What do we do well, and what needs to be improved? We asked Peter Stolze, who coordinates customer service at Lendahand.
Q - What does customer service entail at Lendahand?
Peter: "Although we are still a small company with 20 full-time employees and have many customers (>10,000), personal communication and responsiveness remain incredibly important to us. No matter how we look at it, we have quite an exciting product. People invest their money in companies in developing countries. You want to be sure that the money is well spent and that you will be repaid. If the repayment is delayed - or, worst case, canceled - you want to receive information about this proactively and thoroughly. We send out a monthly update on every partner in arrears. Whether there is news to report or not. Those updates include all the information we have available at that time.
We don't hold anything back. We share everything with the crowd. If something goes wrong with a payment on the platform or with creating an account, you would prefer a response immediately. It may not always be possible, but we always go above and beyond to respond within 24 hours. Simply because we would like that ourselves."

Q - What does customer service mean for Lendahand?
Peter: "For us, customer service means responding quickly and personally to questions and solving problems as quickly as possible (which can sometimes take a while). It also means preventing investors from having to contact us. Proactive communication about portfolio companies and clear explanations on the website of how everything works at our company help to achieve this (such as our FAQ with search function). In addition - and this is also the trickiest part - everything should preferably work perfectly from a technical point of view (creating an account, investing, receiving repayments)."

Q - How do we know what the crowd needs?
Peter: "Our investors generally like quick responses to questions, transparent communication and us listening to wishes and needs. This is also how Lendahand was set up during the first few years, in consultation with investors. People indicated what they needed: information about the revenue model, about how the (financial) cooperation with partners works, what information should be included with projects, about having a 'My Lendahand' dashboard. The entire structure of this personal environment is based on input from investors. We didn't come up with that ourselves. And that's how it should be. Of course, we can't fulfill every individual request (directly). But if the same question comes in repeatedly, we create a 'ticket' for it (a description of what needs to be done), and it shows up on our IT planning."

Q - What would we like to do better?
Peter: "To be honest: quite a lot. Both for existing investors and new investors.
The sharpened legislation and regulations make the 'onboarding process' - creating an account - quite a chore: providing personal information, an identity document (ID), a selfie (to check whether the face matches the ID-photo), a risk awareness test, and bank account validation.
Creating an account technically involves several parties, and if something goes wrong for one, it can disrupt the entire process. Ultimately, this leads to frustration on the part of the new investor. Therefore, we are constantly discussing with these parties and within our team to streamline everything better.
As far as we're concerned, there are still things that should work better for existing investors (payment, transfer, downloads in the personal environment, etc.). All 'bugs' have to be removed, and although they often seem simple, imperfections often prove to be more challenging to solve than expected. We are dependent on parties to whom we are often obliged to outsource activities, and we have relatively little IT capacity (3 FTEs). That is why we are currently hiring."
Q - What are the lessons learned from all these years of customer contact?
Peter: "Five important lessons:
People usually don't mind if something goes wrong once in a while. As long as we respond quickly and resolve it.
Investors want to receive a monthly update if there are any arrears, whether there is something new to report or not.
Generally, people don't expect a response on the weekend, which we did in the first few years, but nowadays, we try not to do that (unless it's urgent).
Investors usually know what they want and don't want on a crowdfunding platform when it comes to functionalities; we learn from that.
Dare to admit when you're wrong. So we do."
Let us hear from you
Would you like to contribute to improvements of the crowdfunding platform? Let us hear from you. We are always open to feedback and questions via info@lendahand.com.
Thank you as always for being a valued Lendahand investor.