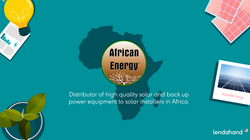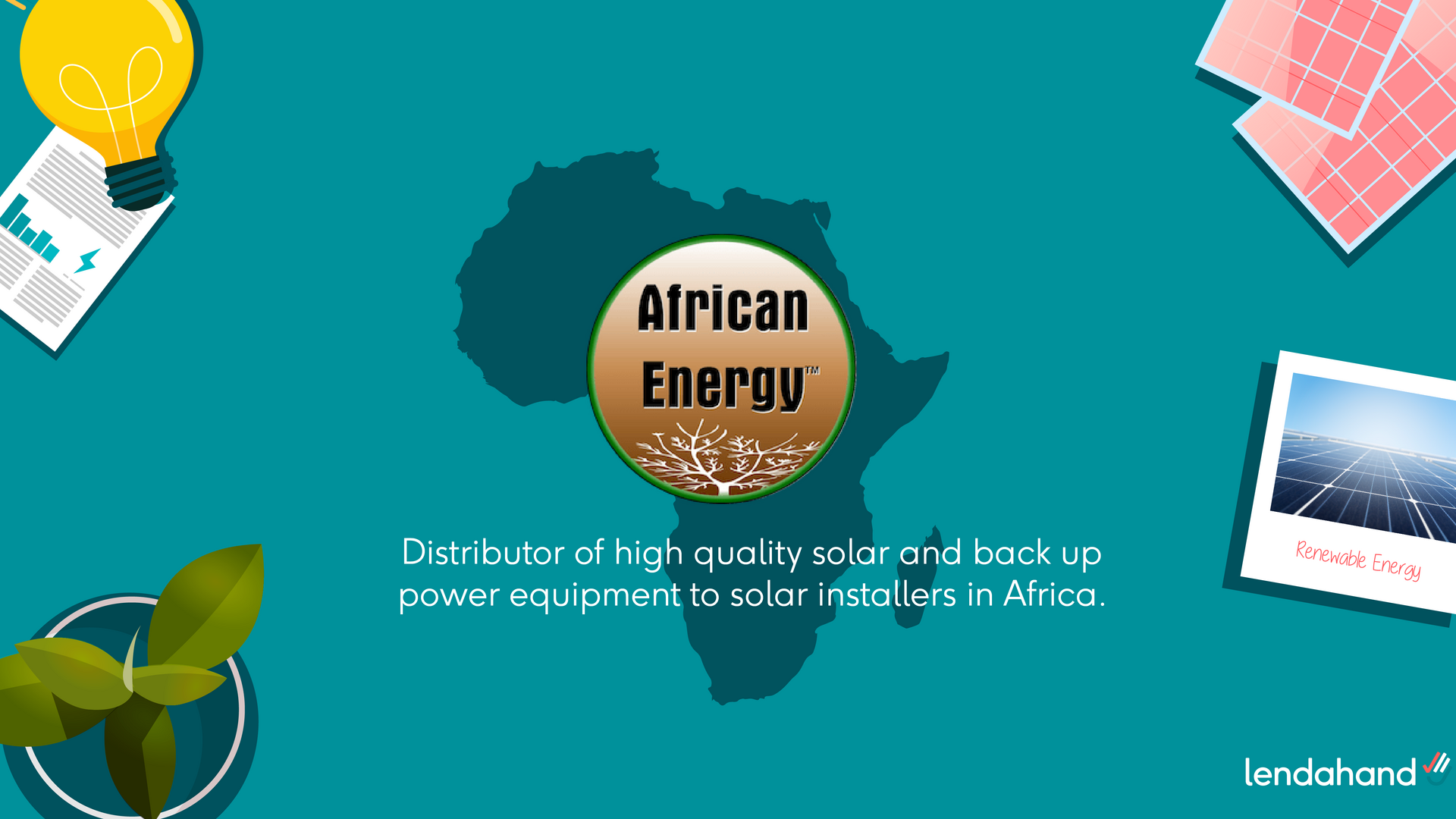 African Energy, the name of our newest portfolio company says it all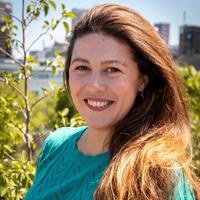 Written by Lynn Hamerlinck on 14 February 2023
We're happy to introduce a new investment opportunity on the African continent to our crowd. And when we say continent, it really is about the whole continent.
African Renewable Energy Inc., founded in 2002, operates in more than 20 countries on the African continent and is committed as a wholesale distributor to providing solar and backup power equipment to solar installers in Africa.
Where to find African Energy?
From electrifying a remote island to preserving 5,000 liters of fresh milk per day, African Energy's equipment installs solar energy in places you wouldn't imagine. The solar equipment they supply is installed in many product use applications and benefits many communities.
For example, a solar system installed at a milk cooling project for milk collection and distribution in Rwanda is now helping farmers to collect milk from small cattle owners and cool it in 3,000-liter tanks. The installation prevents the milk from being spoiled before it gets processed, packed, and distributed for consumption.
And what about the remote island that for sure sparked your interest? Off the coast of Tanzania, the two small remote islands of Kokota and Njau, now enjoy clean, reliable power thanks to a mini-grid of WeCo lithium batteries from African Energy. More than 680 residents of those islands can now boost their economic and personal activities.
And while it's natural to think of making an impact on social, economic, and environmental levels first, let's not forget about the essential need for leisure in people's lives. African Energy also provides solar equipment for solar-powered water pumping, allowing better irrigation of agricultural fields, access to drinking water, and for families to enjoy water fun near their homes for the first time.
Read more about the contributions from African Energy to the Sustainable Development Goals below.
Electrifying Africa through Lendahand
The pandemic turned the world upside down, also in the solar energy sector. African Energy currently witnesses unprecedented global supply chain challenges, which increase the cost of doing business in Africa. We're talking about an increase in cargo shipping costs and production delays. Access to capital keeps shipping and stock management in line, which can be especially challenging in landlocked countries.
With their projects on Lendahand, African Energy will purchase Lithium batteries and solar panels that will be stocked in their depots across Africa. The depots allow customers to be agile and quickly implement solar installment projects.
African Energy serves over 600 customers, most of which are small and medium-sized enterprises. Having all the necessary equipment within reach is not only beneficial for the company and its customers. It reduces the time people and the planet are exposed to harmful fossil fuels, creating a positive impact on health and the environment.
The first project from African Energy will soon be available for investments on Lendahand. Keep an eye out on our projects page here.
* Also wondered how many countries there are on the continent? 48 countries share the area of mainland Africa, and another 6 island nations are considered a part of the continent, bringing the total count to 54 countries.
African Energy explains to which Sustainable Development Goals their activities contribute:
SDG #1 - No Poverty: African Energy serves over 600 customers, most of which are small and medium-sized enterprises that employ an average of 12 people. African Energy enables those companies to succeed and provide employment and a way up for their employees. Some AE customers are now the third generation – meaning that the entrepreneur worked for an entrepreneur who was the original AE customer. As the industry expands, opportunity increases for all participants. AE Depot Managers are also entrepreneurs who have received a contract from AE to manage depots in their country and are typically small companies that live exclusively from that work.
SDG #2 - Zero Hunger: Farms and agricultural smallholders are one of the principal markets for AE products. AE is a leader in solar water pump sales, and many of those systems go to small farms that need to reduce pumping costs or improve yields by introducing irrigation. As technologies have improved and costs have dropped, AE has introduced larger AC pumps that can be driven by solar, allowing larger-scale irrigation in locations where the grid is not available or reliable. AE also distributes solar refrigeration systems, including in a milk cooling project, which allows for in-field preservation of produce and dairy products.
SDG #3 - Good Health and Well-Being: AE may have had more impact on this goal than on any other. Health clinics and hospitals have been a primary market for AE products since the beginning of the company. Rural hospitals have received successive upgrades, starting with small lighting systems and then adding power for better equipment, refrigeration, and water systems as funds became available. Some of the largest health donors like UNICEF, UNDP, and USAID have trusted their contracts to AE equipment, enabling hundreds of health professionals to care for their patients. AE has also sold hundreds of solar water pumping systems that provide clean drinking water and reduce the number one cause of ill health in Africa. These are sold through various channels – NGOs, government bodies, and entrepreneurs who provide clean water as a service.
SDG #4 - Quality Education: Second to health care, education has been a primary focus for AE customers. Twenty years ago, the systems sold for schools were generally very basic lighting systems that allowed students to do homework at night or provided light for adult literacy classes in the evenings. Then, as things progressed, the systems began to power computers, water supply, and even air conditioning. Education sector projects have been large, as the UK DFID project serving many schools in Lagos State or Angolan government adult literacy systems nationwide to several schools in Zambia receiving small inverter systems. As education has moved digital in the last two decades, AE has been there to provide the power.
SDG #6 - Clean Water and Sanitation: As noted above, water pumping is a major market for AE products. Organizations like Water4 depend on AE to have pumps and modules available locally and at a good price with expert installers to make their projects succeed. AE staff regularly hears that the most significant problem with water and sanitation projects is a design failure. This is why AE spends so much time training installers and involving manufacturers, so that system designs are right the first time. As installer capacity and access to good equipment has increased in each of the markets AE serves, so has the number and scope of water and sanitation projects. Project implementers gain confidence by seeing successful projects implemented, and then are more willing to undertake more projects.
SDG #7 - Affordable and Clean Energy: AE has always distributed clean energy products – whether those are PV solar systems that generate power or power backup systems that allow less generator run time. This goal probably does not need further explanation since it is the primary objective of the company.
SDG #8 - Decent Work and Economic Growth: Large-scale and long-term power outages are one of the greatest impediments to economic growth in Africa. Every aspect of modern life is affected by access to good electric power, and economies grow or shrink on the back of the energy supply. African Energy systems keep critical infrastructure operating on or off the grid across Africa every day. This allows for higher economic growth and more stable employment. In the last few years, AE has seen an increasing number of productive use PV systems that focus on daytime use for offices and industry. As an example, we are this month designing a system for the standalone factory to be built in the Lomami Province of the DRC.
SDG #13 - Climate Action: AE products and systems generally displace diesel generators, meaning air and water pollution is reduced as more systems are installed. The quantity of systems installed to replace diesel generators is directly proportional to the amount of product the company is able to stock in depots.