Typically a project only receives the money if the full amount is financed. If that is not the case, then the funders get their committed money back.
There are several forms of crowdfunding: donations, loans, equity, profit-sharing, or rewards based. The two most important ones are:
Through a donation; (sometimes a product or a small gift is gifted in exchange for the donation)
Through the disbursement of a loan or by buying shares
Through our website you can collectively invest in&nbsp small and medium enterprises (SMEs) in emerging countries, through a local partner based in the country of the SME. The main advantage of this structure is that the local partner will cover the risks of defaults of the SME's and currency exchange. This structure enables us to provide fair interest rates to the SME's and you receive a healthy interest as well.
Crowdfunding
The term crowdfunding has not existed very long. In the Netherlands, this form of financing has gained momentum in the last five years. In times where banks have limited the loans they disburse, crowdfunding has proven to provide a solution for this financing problem. Furthermore, the average savings-rate seems not to be interesting enough to grow your capital. Crowdfunding offers often an interest rate somwhere between 4-6%, which makes it an interesting alternative for putting your money away for a fixed period. In the Netherlands, most of the websites focus on investing in a concept or in a company. The basics of an investment are very clear: invest in a company to maximize interest. In the Dutch landscape, donation-based crowdfunding is less common.
Advantages Lendahand
Interest: the realized return is usually significantly higher than the savings rate. In the past years it was twice as high (3% at Lendahand vs 1.4% average savings rate).
Impact: at Lendahand it is possible to choose the entrepreneurs you want to lend to. That way you have a direct impact on the growth of an individual company.
Control: many people have lost their trust in banks since the start of the credit crisis and more than ever want to have direct control over their investments.
Trustworthy: Lendahand only selects reputable SMEs that are subject to a thorough screening process.
Honest: Lendahand it is fully transparent who pays or receives how much interest.
Proud winner Best Crowdfunding Platform 2018 by IEX.nl
Lendahand combines a good sense of risks and returns with the same amount of idealism. The platform does as a 'social lender' innovative things and deserves the title Best Crowdfunding platform of 2018
Most recently funded project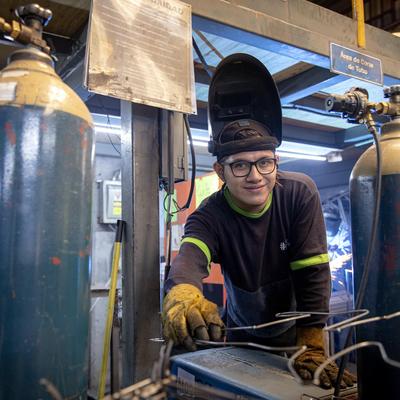 Mexico
Creze 12
Partner Creze will use the EUR 100,000 to finance 10 SMEs in Mexico active in the retail, construction and transportation sector. This will contribute to reduce the SME financing gap, create jobs and improve livelihoods. Approximately 25% of the companies funded by Creze are female owned. **please note: this project contains an exchange rate risk EUR/USD)**
| | |
| --- | --- |
| Amount | €100,000 |
| Interest | 6.00% |
| Maturity | 36 months |
| Repayments | 1 months |
| Currency | USD |
Still €37,810 needed, 31 days to go