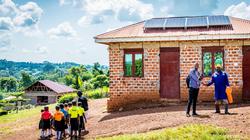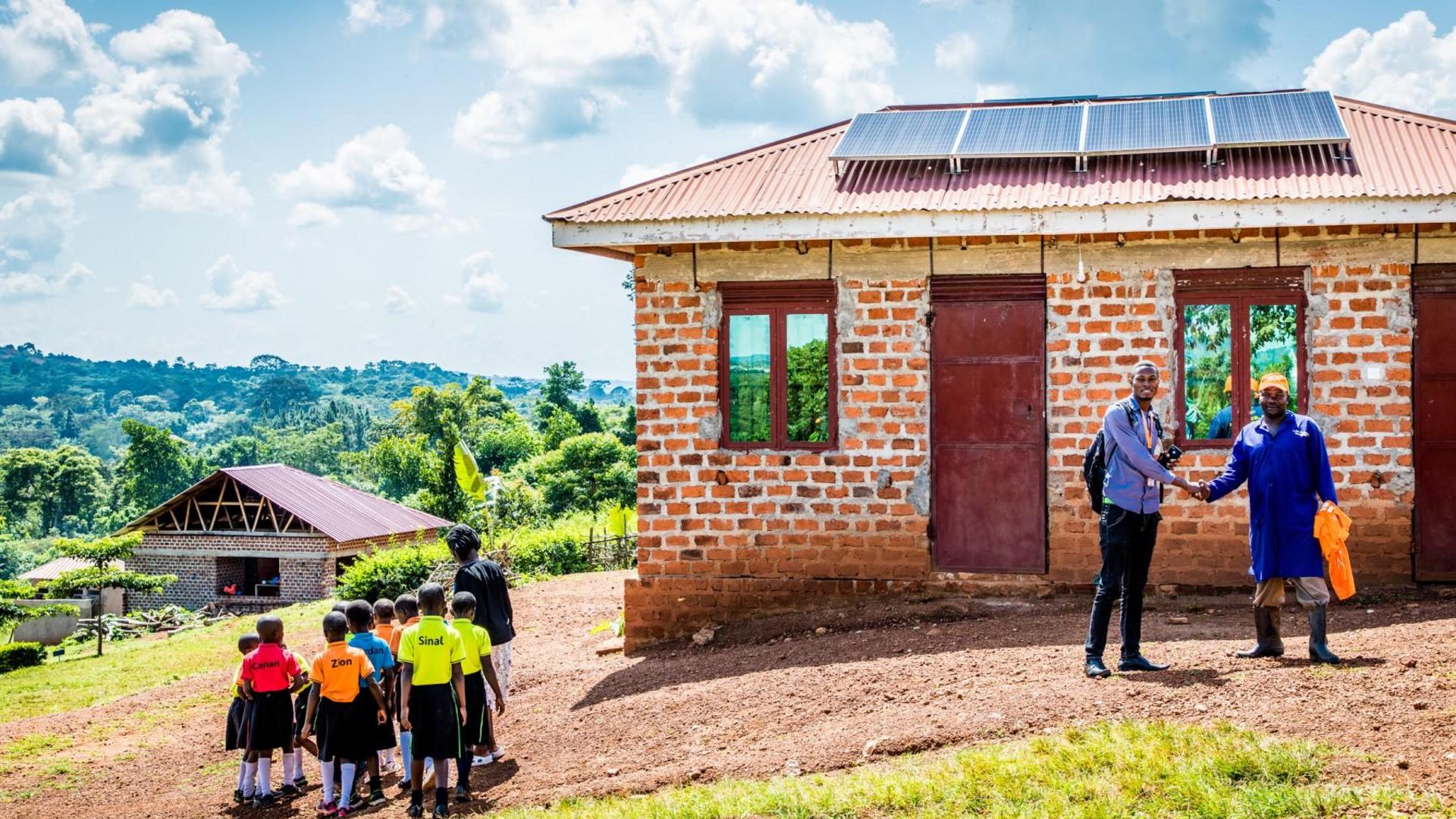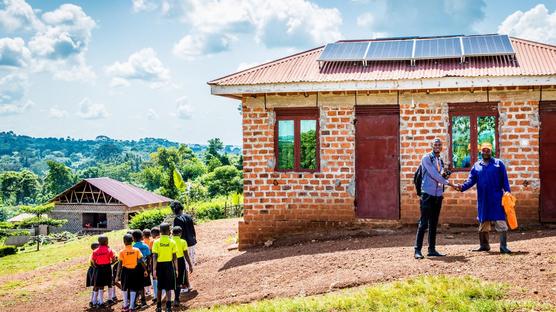 7 Ways Access to Solar Energy is Helping Achieve The No.1 SDG Goal to End Poverty in Africa
Written by Charity Nyawira on 11 April 2023
For half a decade, I lived and worked in Western Kenya around the village of Nyaholo in Siaya County before moving to Nairobi. I must admit, village life has its perks, unlike life in the city. For me, it's the slower-paced life and lower cost of living (food, housing, transportation, and health care).
But life's far from easy for most rural dwellers. I remember how most people, mostly women, hassled to get basic needs like water, food, and cooking fuel.
Some of the most pressing challenges for villagers in Nyaholo were:
Long walks to water
Clean water is only accessible to a few people of means. Most people trek several kilometers to draw river water. Women who have bicycles carry two to three 20-liter jerrycans of water while the men carry about five jerry cans and endure the daunting work of pushing the heavy bicycles up the hill from the river.
A woman without a bicycle will carry one 20-liter jerrycan of water on her head, back, or hands. She will then have to make several return trips to the river, an exhausting and time-consuming endeavor.
Smoky kitchens
Want to boil some "uji" (porridge) for breakfast or "ugali" (cornmeal mush) for lunch? You need to first gather firewood and materials like waste papers, polythene bags, and dry sticks to help you light the fire.
Thick, choking smoke emanating from village huts is often a sign that someone is preparing a family meal. Village cooks, mostly women, often endure the polluting smoke that causes severe health hazards like coughing and enlarged tonsils.
Famine in the dry season
The hardest thing to observe was the feast-famine cycles. While everyone has access to ancestral land, most people can only plant during rainy seasons. Life is good a few months after the harvest when storage barns are full of maize, beans, and sorghum. When the food starts to deplete and the dry season sets in, so does hunger.
Only a few lucky families with access to a constant water supply continue to farm and earn from the sale of their crops.
Living in the dark
Most women strive to complete their house chores before dusk. Children hurry to complete their homework before dark or do it under harmful kerosene lamps at night. Businesses also close shop early to evade the dark, and its often unwelcome visitors.
Most rural residents charge their phones at the town center every day, which prevents them from receiving important calls or messages throughout the day.
All these "power struggles" have kept many rural inhabitants poor.
The less than a handful of families that had solar panels for lighting, running electronic devices like TV, and phone charging were the village heroes. These kinds of homes often attracted "power-hungry" neighbors.
People living in rural villages like Nyaholo need reliable and affordable power to emerge from poverty.
Poor people haven't benefited from increasing national renewable energy projects
Main-grid electricity is a luxury for rural residents. Many of these remote places are desperately remote with low population densities and dispersed households. The government often avoids taking electric power to these remote places as they are less profitable and require substantial subsidies. The cost of electrical wiring and connectivity can go beyond USD 300, a dream for many poor people living in the countryside1.
Even while renewable energy sources including hydropower, geothermal, bioenergy, wind, and solar energy make up 70%2 of Kenya's electricity generation, 80%3 of villagers don't have access to the national grid.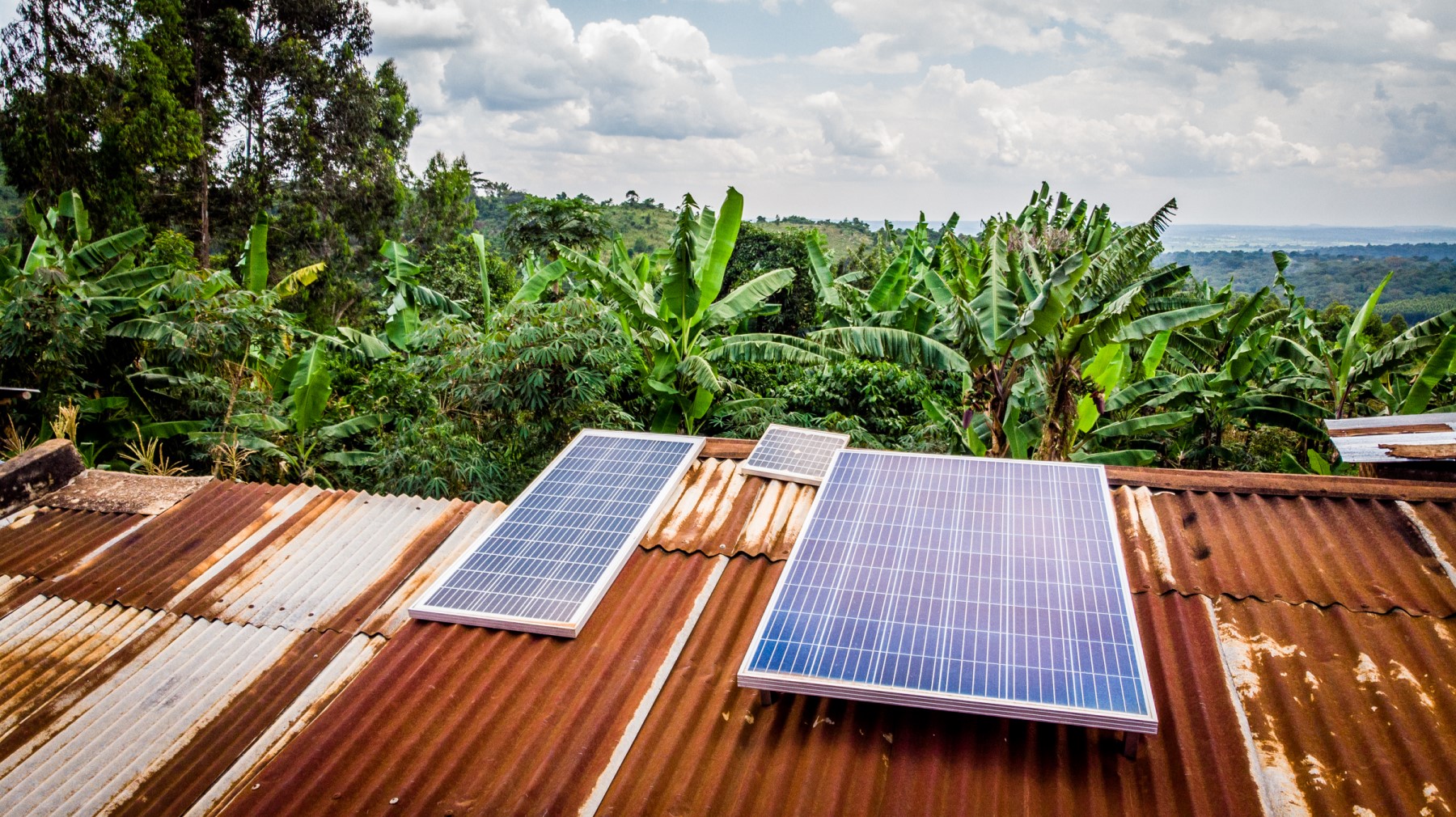 How solar energy helps poor people fight poverty
In most remote areas, mini-grids and stand-alone solar systems are the most viable solutions.
Here's how access to solar energy is helping rural dwellers fight poverty and create wealth:
1. Big cost savings
Poor households mainly rely on kerosene lanterns and candles for lighting. These solutions are inefficient, expensive, and polluting.
Using free solar energy helps rural households realize savings, which users can channel to other productive needs like business and education. In a survey of over 200 Kenyan households4 using solar as a primary source of lighting, 66% of respondents affirmed that solar use helped them save on kerosene and battery costs.
D.light5, a company providing solar lighting solutions and one of Lendahand's borrowers, has helped families in Kenya make savings of at least 50% by shifting from kerosene to solar lighting.
Pay As You Go (PAYG) technology for affordability
Most solar energy providers offer pay-as-you-go loan systems and even group buying plans for affordability. After about 24 to 36 months, the customer gets to own the system fully. Most providers will repair or replace the system in accordance with the warranty terms and conditions. They also open service centers near the areas of installation where customers can visit in case of any issue with the system.
D.light is one of the companies that make solar products affordable to low-income families by removing financing barriers with its Pay-As-You-Go (PAYG) technology. Payments comprise a small down payment of USD 20 and daily installments of 40 cents for a year. The company has impacted over 125 million people with its affordable solar products.
As an impact investor on Lendahand, you can support d.light in its mission to provide a brighter future for low-income families. Click here to learn more about d.light.
2. Reducing the financial burden of disease caused by pollutant fuels
Unhealthy people are less productive and spend their family income on treatment, deepening poverty. Cooking with non-eco-friendly fuels like firewood has been linked to respiratory diseases and lung cancer while wood fires account for millions of deaths6.
Zero-emissions solar cooking keeps rural inhabitants from inhaling toxic fumes, leading to better community health. A survey by the Global Off-grid Lighting Association (GOGLA)7 on the impact of off–grid solar power revealed that over 90% of households that shifted to solar lighting experienced better health and safety.
Kenya has seen the introduction of solar-powered cookers, which capture and convert the sun's rays to heat. Some of the solar cooking inventions in Kenya include curved concentrators, heat-trap boxes, and panel cookers, some of which locals can put together using locally-available materials6.
The introduction of solar ovens in Nyakach County in Kenya8 helped reduce the use of firewood, increasing the quality of indoor air for poor residents. In Kakuma camp in Northwestern Kenya9, the introduction of solar ovens to replace firewood got women cooking more consistently and experimenting with different meals as they no longer had to endure polluting smoke.
3. Fighting hunger
A survey10 of farmers in Uganda, Kenya, and Tanzania showed that rural farmers with access to solar water pumps had a higher income than their peers and 91% less irrigation-related expenses.
Women are the biggest beneficiaries of low-cost irrigation solutions as they make up between 42% and 65%11 of the agricultural labor force in Kenya. In Tanzania, 80% of women12 work in the agricultural sector. Solar irrigation enables all-year farming, eliminating hunger and providing women with extra income from the sale of farm produce.
Lendahand crowd investors financed the SolarNow water pump project in Uganda to supply water pumps to Ugandan farmers for irrigation. The project helped to grow more food for the ever-increasing Ugandan population. It also helped dairy farmers pump drinking water for their cows, saving hundreds of dollars on water trucks while ensuring adequate milk production during low seasons.
African Energy, another of Lendahand's borrowers, provides equipment for solar-powered water pumping to smallholder farmers all over Africa through partnerships with project developers and solar installers. An African Energy partner like Suntech provides financing and PAYG models to make solar pumps available to rural farmers. Solar pumps enable agricultural irrigation and access to drinking water. The company's solar pumps also help farmers save on expensive power bills.
4. Empowering communities through education
A good education leads to better opportunities and living standards. Even for adults, lighting creates an environment for learning new skills which opens up opportunities to drive up family living standards.
According to the GOGLA study7, 84% of households reported that children with access to solar lighting had more time to do their homework. In Tanzania, children's primary and secondary school completion rates increased by 100% for households using solar lighting.
Sollatek, another of Lendahand's borrowers, is one such company promoting education through solar lighting. Sollatek, in a project dubbed Project Jua13 installed solar systems for lighting, powering educational equipment, and water pumping and heating which led to better educational outcomes in some of Kenya's poorest counties including Turkana, Kilifi, and Isiolo.
Home lighting systems like those you can invest in on Lendahand via companies like d.light and African Energy also ensure that households have access to lighting to be more productive at home.
5. Powering thriving businesses and higher incomes
Having access to light enables people to work longer and be more productive.
The GOGLA study7 revealed that 44% of solar energy users became more flexible in their daily activities, leading to additional average earnings of USD 25 per month. 11% of customers reported starting businesses after getting a solar home base system and retail shops reported an increase in revenue of USD 36 per month.
Margaret14 a small-scale Kenyan businesswoman in Naivasha reported that daily revenues went up by 30% after adopting the d.light solar home system. Better and long-lasting lighting enabled her to keep her business open for at least two more hours than she did previously. d.light lights can run over 10 hours on a low setting and give at least 10x brighter light than kerosene, increasing the productivity of users at home and in businesses.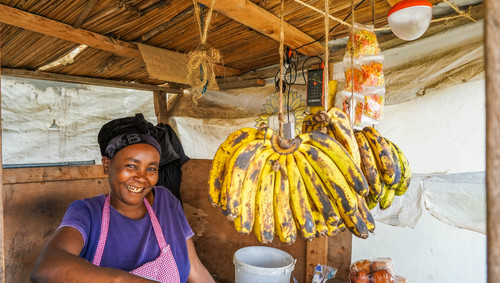 Solar chargers also enable small business owners to charge their phones, increasing the rate of online transactions and easing access to near and far-away markets.
6. Better community healthcare and survival of pregnant moms and infants
High maternal and child mortality and infectious diseases such as malaria and tuberculosis cause an economic burden on households.
Families that have had a maternal death spend about 33%15 of their annual per capita income on accessing healthcare compared to 12% for families that had a healthy delivery. High funeral costs and the increased financial responsibility on surviving family members also increase financial strain for surviving families.
The use of solar energy has helped to power up healthcare facilities in rural areas, allowing night deliveries and the storage of vaccines and medicines through refrigeration.
Sollatek's Project Jua11 enabled the powering of clinics and health facilities which saw a reduction in maternal deaths and better healthcare services for the community.
Solar-powered freezers in the remote hospitals of Makueni County16 in Kenya help to prevent diseases and save lives. Before the introduction of solar freezers, hospitals as far as over 10km from the national electrical grid could not store vaccines for more than 6 hours.
Solar freezers have helped store vaccines longer, reaching immunization rates of 95% in some hospitals, up from as low as 25%. Hospitals can also store oxytocin, an injection given to new mothers to prevent postpartum hemorrhage (PPH). PPH causes approximately 40%17 of all maternal deaths in Kenya.
7. Entrepreneurship opportunities and job creation
Solar projects create decent job opportunities for local communities in areas such as product distribution, sales and marketing, and repairs and maintenance of solar equipment. Earning a good income, locals can then improve their standards of living and that of their families.
Sollatek18, for instance, has created lots of employment opportunities by recruiting and training locals to help in the last-mile distribution of its products. Sollatek trains locally recruited talent and supports them through technical, marketing, and operational tasks, providing valuable skills and employment in areas with low education and employment levels.
Solar projects have also empowered entrepreneurial activities, especially among women. Women have created better livelihoods for themselves, reducing the gender inequality gap. In rural Kilifi town19, women used solar ovens to bake their way into a more comfortable life. Solar cooking saves these women the limiting operational costs of using fuels such as coal or the harmful effects of firewood pollution. In Kakuma camp9 as well, solar ovens inspired some women to start baking businesses, creating income streams.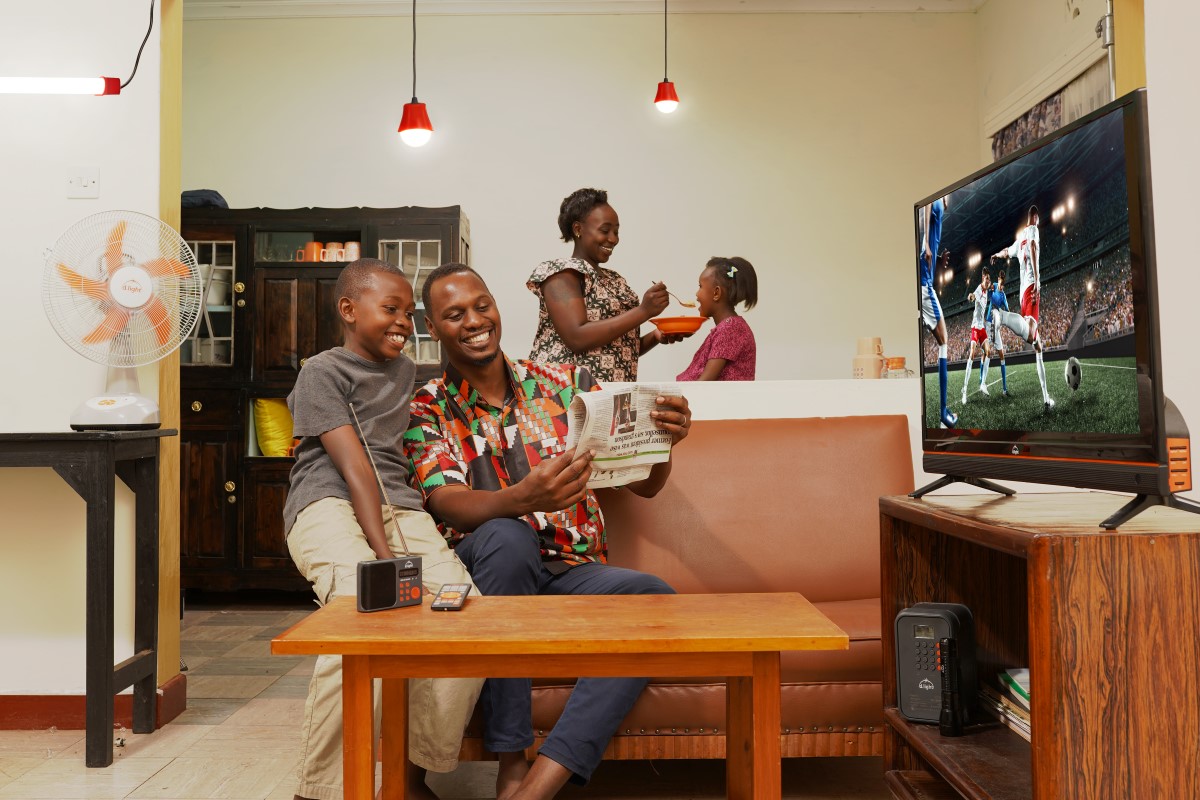 Lendahand Helps Eradicate Poverty by Funding Impact Solar Energy Projects
Access to affordable and reliable energy is what many rural dwellers in Africa need to break free from the clutches of poverty. Solar projects that facilitate lighting, phone charging, cooking, water pumping, and cold storage of medicines are bettering lives in rural Africa.
By enabling access to affordable and reliable solar energy, poor communities can access education and healthcare services, avoid diseases caused by polluting fuels, and engage in sustainable farming. And there's more. Solar projects also open up employment opportunities that keep people out of poverty.
Thanks to our amazing crowd, Lendahand has successfully funded transformative solar projects from solar companies like d.light, Sollatek, and African Energy. These companies provide solar solutions that are helping communities worldwide fight poverty. Keep an eye on our projects page to invest in companies that are transforming lives.
Sources
1. Ujenzi Forum , 2. Centurion Law Group , 3. Africa Energy Outlook 2022 , 4. Strathmore University , 5. d.light , 6. Africa News , 7. Gogla.org , 8. United Nations Climate Change , 9. Solar Cookers International , 10. Consultative Group to Assist the Poor , 11. Servir Global , 12. ifad.org , 13. Sollatek , 14. d.light , 15. Reproductive Health Journal , 16. Gavi , 17. PLOS Global Public Health , 18. EEP Africa , 19. Reuters