Micro-credit company Bailyk Finance LLC, founded in 2011, is a Bishkek-based microfinance organization with the mission to improve rural and small cities' residents' quality of life by creating affordable financial solutions. The company currently serves its client base of around 45 000 people with its 43 offices located throughout all regions of the Kyrgyz Republic.
Bailyk Finance offers a range of secured and unsecured credit products, including green loans and home improvement loans, to low-income residents of rural areas and small cities with no access to banking services. Over 80% of the credit portfolio focuses on financing income-generating activities, mainly agriculture. In addition to providing funding, the company conducts financial literacy workshops for its clients and offers training on agriculture financing, improving living conditions, and green finance.
The company puts innovation at the forefront of its development by regularly launching new projects that improve clients' access to financing, simplifying the process of obtaining financing, and reducing operating costs. On November 22, 2021, the Company received the license to carry out Islamic financing.
Over 2018-2021 Bailyk Finance has more than tripled its loan book and reached US$30M making the company the third-largest MFI in Kyrgyzstan. Despite the pandemic and worsening economic climate in Kyrgyzstan, the company has maintained one of the lowest portfolio-at-risk ratios (2.8% PAR 30 in Q4 2021) in microfinance. The company's total equity as of Q4 2021 is about US$5.8M.
General information
| | |
| --- | --- |
| Borrower | Micro-credit company "Bailyk Finance" LLC |
| Country | Kyrgyzstan |
| Head office | Bishkek |
| Website | https://www.bf.kg/ |
| Founded | 1 February 2011 |
| Active on Lendahand since | 22 February 2022 |
| Credit Score | 2.6 |
Financial information per 2021-12-31
| | |
| --- | --- |
| Portfolio Overview | €26,850,533 |
| Leverage ratio | 17.43% |
| Write-off ratio last 12 months | 0.10% |
| % investment amount in arrears (>90 days) | 2.35% |
About Kyrgyzstan
Kyrgyzstan, officially the Kyrgyz Republic, is a mountainous landlocked country in Central Asia. Kyrgyzstan is bordered by Kazakhstan to the north, Uzbekistan to the west, Tajikistan to the south, and China to the east. Its capital and largest city is Bishkek. Ethnic Kyrgyz make up the majority of the country's six million people, followed by significant minorities of Uzbeks and Russians. It is a developing country ranked 120th in the Human Development Index, and the second poorest country in Central Asia. The country's transition economy is heavily dependent on deposits of gold, coal and uranium.
Last funded project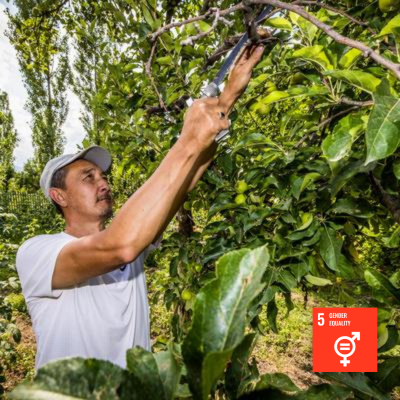 With a EUR 150,000 loan local partner Bailyk Finance (a women owned, managed & controlled company) will again provide financing to about 300 individual entrepreneurs and farmers in rural areas of the Kyrgyz Republic. **please note: this project conains an exchange rate risk EUR/USD)**