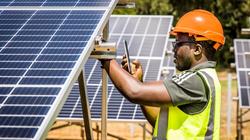 9 Top Trends Driving Solar Growth in Africa
Written by Charity Nyawira on 4 August 2023
In February 2022, in the semi-arid county of Kajiado (about one and a half hours drive from the Kenyan capital of Nairobi) a new solar project was launched — Agrovoltaics, the growing of crops underneath solar panels.
This breakthrough method of farming was found to not just provide cheap energy for crop growth but also double up as a yield booster. Solar panels shaded the crops from harmful UV rays and led to better moisture retention, resulting in larger, healthier cabbages, with the same amount of water and fertilizer1.
Agrovoltaics would improve the livelihoods of remote dwellers by increasing food and water security and helping locals cope better with climate change.
Such innovative solar projects providing solutions to the energy and food security needs of many Africans are part of the proof that solar is here to stay.
While Africa's current energy mix is currently dominated by fossil fuels at 79% and hydropower at 16%, energy company BP predicts that around 30% of Africa's energy production will be from solar power by 20503.
Here are 9 top trends that give hope for a bright solar future in Africa.
1. Large-scale solar projects
Large or utility-scale solar projects have been the buzz for a while. They are solar facilities that generate power and supply it to a grid, an excellent option for countries that need to concentrate and accelerate solar diffusion to achieve their clean energy goals.
Utility-scale solar projects will be widespread in the sunniest countries by 2026 according to a report by USAID and become lucrative investment targets in the coming decades4.
Massive solar projects are popular as they have a high rate of cost reduction (learning rate) and could halve solar costs in 2050. Between 2010 and 2020, for instance, utility-scale solar had a learning rate of 39% compared to the global average of 34%5.
Examples of large solar projects in Africa include the world's largest power farm, Noor Quarzazate Solar Power Station in Morocco, providing more than a third of electricity in the country.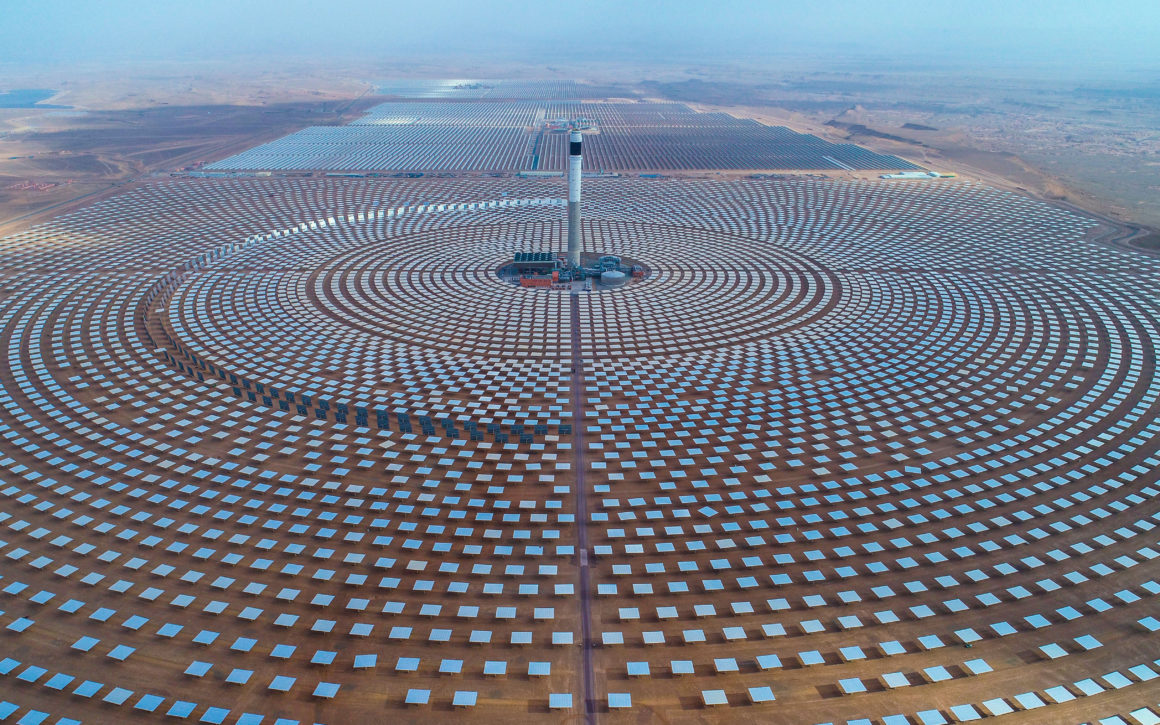 In Kenya, large-scale solar projects, Radiant and Radiosol, generated over 80 MW of clean power for over 300,000 households6. Recent 2023 utility-scale solar projects in Africa include the 7.5 MW Boundiali solar plant in Côte d'Ivoire, the 7.2 MW Lucapa plant in Angola, and the 1.8 MW plant in Madagascar7.
2. Solar mini-grids and home systems
Large-scale solar projects are great, but only solar mini-grids can truly connect Africa.
Off-grid solar, especially community solar projects, reach populations that would have to wait years to access main-grid electricity.
An example of a community project is the World Bank (WB) solar power project in remote Isiolo County, Kenya, targeting 5,000 households. The 2021 WB solar project involved the electrification of public offices, schools, and health facilities through various mini-grids. The project also involved putting up 22 solar-powered boreholes for increased access to water8.
The demand for mini-grids is going up, with an expected commercial opportunity worth $24 billion annually. Kenya already has 62 fully operational mini-grids, over 25 mini-grids under construction, and plans to build 137 more mini-grids. Nigeria's National Electrification project has deployed over 100 mini-grids9,10.
Africa however, needs over 160,000 mini-grids by 2020 to provide power to over 380 million people. Currently, we are at 12,000 mini-grids serving about 46 million people10.
Lendahand is helping African countries achieve their SDG #7 Clean Energy goals by financing companies that offer solar home systems (SHS) and mini-grids. One of Lendahand's borrowers, African Energy, for instance, installed a 131 Kilowatts (kW) mini-grid in two remote Tanzanian Islands, Kokota and Njau. The installations provided over 90 Megawatts (MW) of solar energy per year to over 680 island residents who had no reliable power.
3. Increased foreign investment
Solar energy makes up 50% of new renewable energy investments, shared equally between utility-scale and distributed solar projects11.
Off-grid solar power is especially getting the attention of investors as it is now considered a long-term power solution and not just a temporary fix as communities await the grid.
Renewable energy projects including pay-as-you-go systems received pledges of over 80 billion in the 2021 G7 summit12. The World Bank has committed more than $1.4 billion to mini-grids over the next seven years, through 38 projects in 29 countries. These include the deployment of 3,000 mini-grids by 2029, to reach over 13 million people9.
Lendahand, through its crowd, has invested millions in impact solar projects all over Africa. Past solar home system projects include SolarWorks! and Solar Home Systems which have provided lighting and solar energy for thousands of households.
Our latest borrower, d.light, has sold more than 25 million solar products to poor households. Another new borrower, African Energy, supplies wholesale solar products such as solar water pumps, solar lighting, and backup power equipment all over Africa.
4. Commercial and industrial adoption
Reliable solar energy has become critical in countries such as Kenya and South Africa where high power tariffs and power blackouts lead to millions of losses for businesses.
A new report by the Africa Solar Industry Association (AFSIA) shows industrial solar power installations or captive solar in Africa grew by over 60% in 2022, taking cumulative solar capacity past the 10 gigawatt (GW) mark13.
In Kenya, for instance, companies are going solar to escape high grid tariffs and unexpected blackouts. Devki Steel Mills and British American Tobacco (BAT) in Kenya installed solar power plants at their respective plants in 2022. BAT targeted a total captive solar installation of 1.4 MW while Devki Steel Mills went for 4 MW14.
Lendahand recently financed a commercial solar project by African Energy. The project involved the installation of solar panels to universities in Abuja, Nigeria to replace expensive diesel generators.
5. The growth of rooftop solar
Rooftop solar installations are not just popular because they save on electricity costs. Rooftop solar eliminates the need for additional installation space and acts as a source of income when owners feed excess power to the grid (net metering).
Kenya already has a good number of rooftop solar projects installed in commercial settings. Some of the notable ones include the 400kWp rooftop solar installation at Coastal Bottlers in Mombasa. The latest rooftop solar installation was at Chiromo Campus, a branch of The University of Nairobi, the largest university in Kenya15.
Kenya is seriously considering scaling up rooftop solar for net metering as fears of power blackouts loom. Experts projected a capacity of 100MW of rooftop commercial and industrial (C&I) by 2022 with continued growth in the coming years16.
The rooftop solar market in South Africa is projected to grow at a compound annual growth rate (CAGR) of more than 9.5% up to 2026. In 2020, Botswana launched a Rooftop Solar Program that would see 8MW of commercial and industrial capacity and 2MW of residential solar generated in the first year. In Rwanda, PV (an acronym for photovoltaic, the conversion of sunlight to electricity) generation was expected to more than double from 200MW in 2022 to 500MW in 202517.
6. The falling cost of solar energy systems
The cost of mini-grids has been going down thanks to factors like the decreasing costs of key components and growing economies of scale.
The International Renewable Energy Agency (IRENA) reported that the cost of solar decreased by 77% between 2010 and 201818. In Africa, mini-grids are likely to be the lowest-cost energy solution, producing electricity for as low as $0.20/kWh by 203010.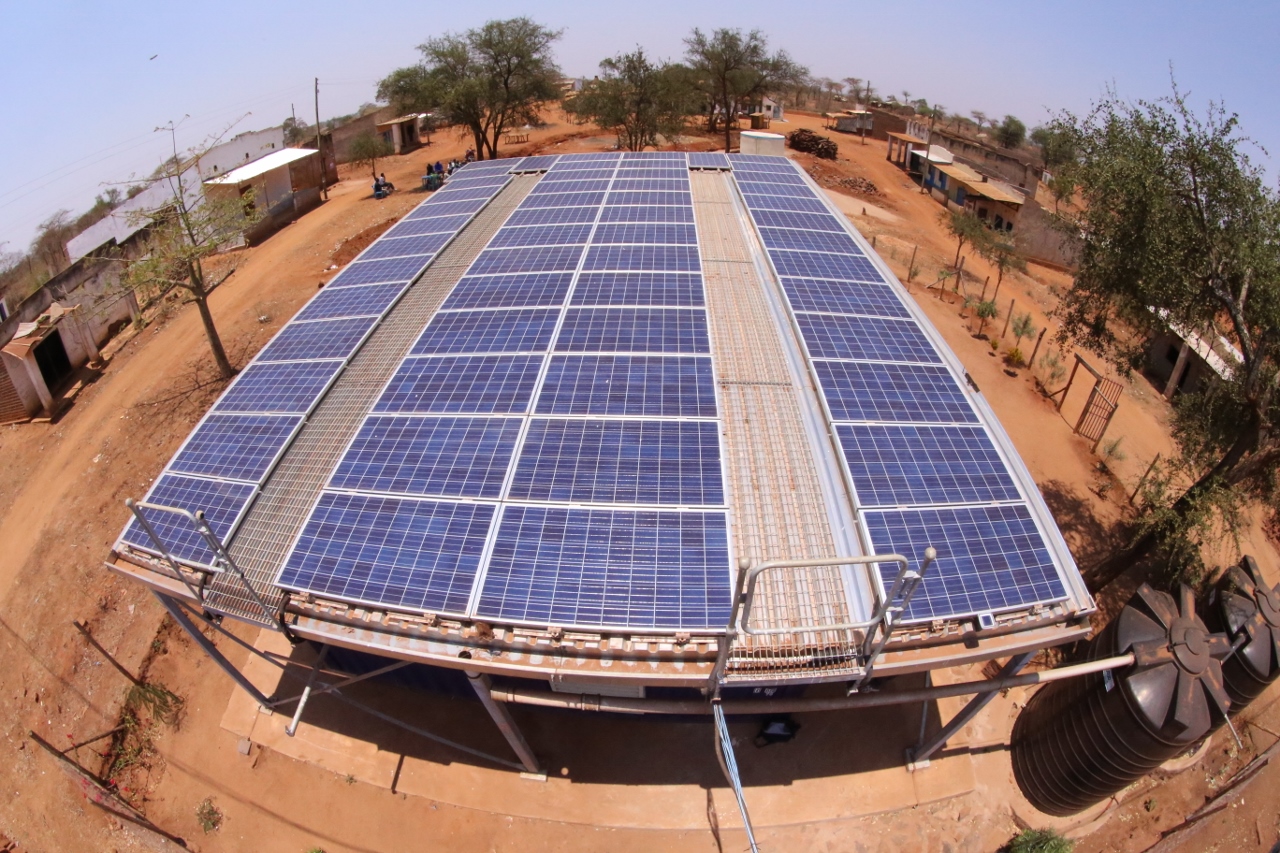 Financing and pay-as-you-go systems
African companies are also adopting business models that are making solar affordable. An example is the use of remittance receipts in Somalia. In Malawi, low-income solar customers get access to long-term green SACCO loans. Businesses in Zimbabwe can access low-income informal sector loans through MoneyMart Finance and make weekly or monthly repayments based on their cash flows19.
Decreasing costs of solar storage and PV installation
According to a report by IRENA, the total installation cost of solar PV projects would continue to decline in the next three decades, making solar PV highly competitive in many markets.
By 2030, the average installation cost of solar PV installations would be between USD 340 and 834 per KW. The cost is likely to fall further in 2050 to reach between USD 165 to 481 per KW, compared to the 2018 average of USD 1,210 per KW20.
Access to debt and equity finance
Increased foreign investment in solar, which includes equity and debt finance has also contributed to the decline in solar prices.
7. Bigger and better energy storage
Solar battery storage has made the once unreliable solar energy more flexible and reliable. Solar storage systems and their decreasing costs have increased solar adoption in rural areas.
Countries incorporating storage into solar plant designs
Construction of the Cuamba solar plant in Mozambique which began in 2021 was set to create a PV capacity of 19MW and 7MWh battery storage. Somalia's 2021 DHYBRID microgrid project with a PV capacity of 8MW boasts one of its largest energy storage systems, 2MWh of lithium-ion battery storage. There's also Madagascar's NEA Ambatolampy, a 40MW solar power plant with a 5MWh battery-storage capacity, one of the biggest in the Indian Ocean.
Jinkosolar, one of the largest solar panel manufacturers on the globe is doing the most when it comes to increasing the rate of energy storage in Africa. In 2021, the company supplied a 1.2MW storage system in West Africa to improve the consumption of electricity in local villages. Jinkosolar also got into a partnership in 2022 to distribute 50MWh of energy storage in Nigeria21.
8. Increased solar efficiency and innovation
The efficiency and power output of solar panels has improved significantly over the past few decades.
For instance, solar PV panels are becoming thinner and lighter in weight enabling them to occupy limited rooftop space.
Higher efficiency panels (monocrystalline or mono panels) generate more energy per square metre requiring less overall area, which is perfect for rooftops with limited space. In 2018, the efficiency of mono-crystalline reached 18% while that of multi-crystalline PV reached 17%, a trend that is expected to continue through to 203020.
Other innovations include advanced solar inverters, solar shingles (solar roof tiles) and liquid solar panels that can increase solar capacity by over 30%22.
9. New, creative solar uses
Solar energy is also finding new uses in small businesses, agriculture, health, and transport.
Some of these new uses include:
Solar-powered equipment for agriculture
New solar uses in agriculture include mobile solar water pumps, solar incubators for egg hatching, solar cook kits, and solar vegetable driers.
Some farmers in western Kenya for instance, are shifting from traditionally sun-drying cassavas which can take as much as four weeks, to using sun-drying technology which takes about a week. The case is the same for farmers in Adogo, Nigeria. Solar driers prevent food spoilage, increasing food security and farmer incomes.
Solarization of boreholes
With many Africans still struggling to access water, borehole solarization is picking up.
Solarizing boreholes reduces the cost of pumping water by as much as 80%. For instance, in 2021, Davis & Shirtliff solarized a borehole in Isiolo that would supply 17,000 litres of water to Isiolo residents and reduce the operating cost of the water pumping system23. The company was also involved in the solarization of another borehole in the Bidibidi refugee camp in Uganda.
Solar-powered LED streetlights
Many Sub-Saharan countries lack reliable or adequate street lighting due to the high cost of grid electricity.
In Kampala, Uganda, for instance, only 8% of the city's paved road and street network is illuminated. In Jinja in Uganda, street lights were turned off thanks to a USD 350,000 electricity bill24. Uganda found that using solar could reduce upfront costs, electricity costs, and maintenance costs by 25%, 40% and 60% respectively.
Kenya alone incurs over Ksh1.7 billion in billing thanks to over 250,000 grid street lights and more than 1000 high mast flood lights25. Street-lighting projects like the Taita Taveta and Kwale County projects produce clean energy while saving costs26,27.
Solar-powered vehicles and motorbikes
Solar vehicles are cheaper to maintain and are a source of clean energy, unlike fossil fuels. Solar-powered cycles, some mounted with freezers, are also helping small-scale farmers in Africa deliver fresh produce to the market28.
Lendahand is already financing Roam Electric, one of the new entrants in the Kenyan electric vehicles market.
Lendahand is helping Africa achieve its energy goals by financing diverse solar projects
If Africa does not invest in solar energy now, the continent could be stuck with fossil fuels for years to come. Luckily, the above solar trends are attracting government and investor attention, giving African solar a bright future.
Since 2013, Lendahand has been helping solar companies in Africa access debt financing to grow their operations, aiding the transition to green energy. We are passionate about helping Africa achieve its clean energy goals. Our latest projects include Roam Electric, African Energy, and d.light.
Be the first to invest in companies that are powering clean energy in Africa by keeping tabs on our projects page.
Sources
1.The Guardian 2.IMF.org 3.WeForum 4. USAID.gov 5.Energypost.eu 6.PV-magazine 7.EIB.org 8.Nation Africa 9.Kleos Advisory 10.World Bank 11.IEA.org 12.Gov.UK 13.AFSIA 14.Standard Media 15.UONBI 16. PV Magazine 17.Mordor Intelligence 18.IRENA.org 19. Africa Clean Energy 20. IRENA.org 21.Energy Storage News 22.Greenlancer 23.Davis and Shirtliff 24.The Conversation 25.The East African 26.Clodesun 27.Kenya News 28.How We Made it in Africa